Dylan/Danko/Helm: Drunken Minstrels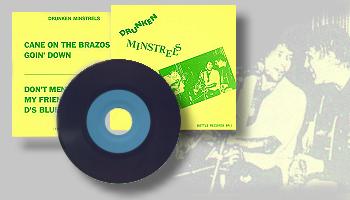 USA independent Label, Bottle Records, released this odd 7" EP in 1984. There were only 200 copies. The package is minimal. A yellow and green, or red and white folded paper insert with a small xerox image of Dylan at the Lone Star Cafe in 1983. The label is blank blue.
There are only two Dylan tracks. Side A is not Dylan, but an unknown impersonator. This was meant to defraud the boot-buying public. Side B is from the Lone Star Cafe , NY, February 16, 1983 with Levon Helm and Rick Danko. There was more material recorded at this venue that could have been used on this release.
Tracks
Side A
Don't Mention My Name
My Friend Cocaine
D's Blues
Side B
Ain't No More Cane
Goin' Down
Dylan/Danko/Helm - Drunken Minstrels - 1984 - Bottle Records BR1
---
[History] [Members] [Library] [Discography] [Videography] [Filmography] [Pictures] [Audio Files] [Video Clips] [Tape Archive] [Concerts] [Related Artists] [Merchandise] [Guestbook] [Chat Room] [Search] [What's New?] [Main Page]
Webmaster