Bob Dylan: First Time Around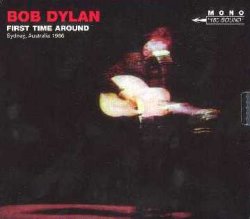 First Time Around is a 2-disc Dylan/Hawks bootleg on the Vigotone label, recorded at Sydney Stadium, Sydney, Australia, 13 April 1966. Bob Dylan: vocal, guitar, harmonica, piano ("Ballad of a Thin Man"); Robbie Robertson: guitar; Rick Danko: bass, background vocal; Garth Hudson: organ; Richard Manuel: piano; Mickey Jones: drums. Sound samples available.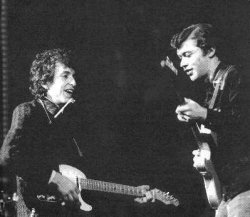 Booklet photo (courtesy of the Bumbles Collection)
Tracks
Disc 1 - Solo Acoustic

She Belongs to Me
Fourth Time Around
Visions of Johanna
It s All Over Now, Baby Blue
Desolation Row
Just Like a Woman
Mr. Tambourine Man Interval

Disc 2 - Electric

Tell Me, Mamma
I Don t Believe You
Baby, Let Me Follow You Down
Just Like Tom Thumb s Blues
Leopard-Skin Pillbox Ha
One Too Many Mornings
Ballad of a Thin Man
Positively 4th Street.



First Time Around - Bob Dylan - 2000 - Vigitone VT-187/8
---
[History] [Members] [Library] [Discography] [Videography] [Filmography] [Pictures] [Audio Files] [Video Clips] [Tape Archive] [Concerts] [Related Artists] [Merchandise] [Guestbook] [Chat Room] [Search] [What's New?] [Main Page]
Webmaster