Bob Dylan: From Newport to the Ancient Empty Street in LA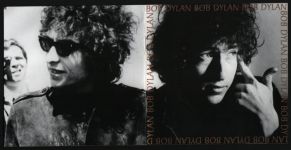 [Front cover] [Back cover] [Tray insert]
2-CD Bootleg with 1964/65 acoustic and electric (with Al Kooper and the Paul Butterfield blues band) Dylan shows at the Newport Folk Festival, and the Hollywood Bowl, Los Angeles, CA 09.03.65 concert. Hollywood Bowl was the second show Dylan did with Levon and Robbie (plus Al Kooper and Harvey Brooks on organ and bass).
The sound quality of the Dylan Newport '65 electric set is good, Very clear sound and interesting crowd noise - not nearly as negative as is historically alleged. It also contains a very nice sound quality (and as complete as exists) version of the Hollywood Bowl show.
From the list of songs, it looks like this bootleg uses the stereo mixes of the Newport '65 tracks, which have overdubbed crowd noise between tracks, so what you're hearing isn't really the Newport audience. That said, complete line recordings of that show do exist (albeit in mono), and while the audience isn't quite as loud as on the stereo mixes, they still seem pretty happy - no boos, the only complaints being after Bob leaves the stage - they simply wanted to hear more of him.
Tracks
Disc 1
Newport Folk Festival, Newport, Freebody Park, Rhode Island, July 26th 1964 (Dylan solo)
All I Really Want To Do
To Ramona
Mr. Tambourine Man
Chimes Of Freedom
Newport Folk Festival, Newport, Freebody Park, Rhode Island, July 25th 1965 (with Al Kooper and the Paul Butterfield Blues Band)
Maggie's Farm
Like A Rolling Stone
It Takes A Lot To Laugh, It Takes A Train To Cry
It's All Over Now, Baby Blue
Hollywood Bowl, Los Angeles, CA, September 3rd, 1965 (acoustic set)
She Belongs To Me
To Ramona
Gates Of Eden
It's All Over Now, Baby Blue
Disc 2
Hollywood Bowl, Los Angeles, CA, September 3rd, 1965 (acoustic set)
Desolation Row
Love Minus Zero/ No Limit
Mr. Tambourine Man
Hollywood Bowl, Los Angeles, CA, September 3rd, 1965 (electric set, with Levon Helm, Robbie Robertson, Al Kooper and Harvey Brooks)
Tombstone Blues
I Don't Believe You
From A Buick 6
Just Like Tom Thumb's Blues
Maggie's Farm
It Ain't Me Babe
Ballad Of A Thin Man
Like A Rolling Stone
Bonus: Alternate studio version (acetate with background vocals overdub)
Tombstone Blues
Bob Dylan - From Newport to the Ancient Empty Street in LA - 1998 - Dandylion DL 061/062
---
[History] [Members] [Library] [Discography] [Videography] [Filmography] [Pictures] [Audio Files] [Video Clips] [Tape Archive] [Concerts] [Related Artists] [Merchandise] [Guestbook] [Chat Room] [Search] [What's New?] [Main Page]
Webmaster