Bob Dylan: Give the Anarchist a Cigarette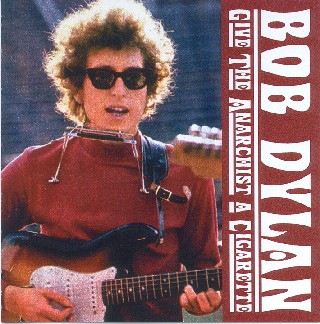 2002 Dylan/Hawks bootleg on the Wild Wolf label. Robbie Robertson, Rick Danko, Levon Helm, Garth Hudson, and Richard Manuel appear on tracks 4 through 16.
Collection of (mostly) electric tracks taken from two of the final three 1965 shows to feature Dylan backed by all five members of The Band -- Boston on October 29th and Hartford on the 30th. (After a return show in Boston on the 31st, Levon packed it in.) Sound isn't really any better than that on Long Distance Operator, recorded December 4th in Berkeley with Bobby Gregg on drums, which means rough going -- an almost 40-year-old audience recording with plenty of dropouts and muffled audience conversation. But, hey, it's the sound of history. Give the Anarchist... includes a version of "Maggie's Farm," which wasn't performed in Berkeley. The final three tracks are lifted from Long Distance Operator.
--"Bumbles", Ausust 2002
Tracks
She Belongs to Me
It's All Over Now, Baby Blue
Mr. Tambourine Man
Tombstone Blues
Baby, Let Me Follow You Down
Maggie's Farm
It Ain't Me, Babe
Positively Fourth Street
Like a Rolling Stone (Bushnell Memorial Auditorium, Hartford, CT, 30 October 1965)
Tombstone Blues
I Don't Believe You (She Acts Like We Never Have Met)
Baby, Let Me Follow You Down
Ballad of a Thin Man (Back Bay Theater, Boston, MA, 29 October 1965)
Just Like Tom Thumb's Blues
Long Distance Operator
It Ain't Me Babe (Berkeley Community Theater, Berkeley, CA, 4 December 1965).
Bob Dylan - Give the Anarchist a Cigarette - 2002 - 78:59 - Wild Wolf 65
---
[History] [Members] [Library] [Discography] [Videography] [Filmography] [Pictures] [Audio Files] [Video Clips] [Tape Archive] [Concerts] [Related Artists] [Merchandise] [Guestbook] [Chat Room] [Search] [What's New?] [Main Page]
Webmaster