Bob Dylan: Hard to Find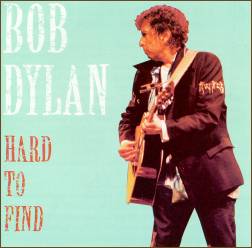 This is a 21 track, 1CD, bootleg compilation of (mostly) officially released tracks from soundtracks, compilation albums, tributes....with several other heretofore unreleased trax. An excellent compilation of Dylan songs unavailable on Dylan albums spanning '63 ("Playboys & Playgirls" - Newport) to '95 ("House of Rising Sun" from HWY61 Interactive). This one could save you a lot of money by precluding the need to buy all the official disks these tracks are taken from (tribute/benefit albums: Doc Pomus, Woody Guthrie, Romanian Angel Appeal, Walt Disney Children's, Soundtracks: "Hearts of Fire"- although it does exclude the other take of "Had A Dream About You Baby," "Band of the Hand," "Flashback" - excellent version of "People Get Ready," "Natural Born Killers."
Tracks not mentioned already are: "Boogie Woogie Country Girl", "PBoy Floyd", "Heartland" w/Willie Nelson (studio), "Sign Language" w/Clapton and Robbie Robertson, "The Usual", "Night After Night", "Hard Rain" (Nara Festival 5/94), "Song to Woody" (30th Anniv), "This Old Man", "You Belong to Me", "Rita May & GJackson" acoustic ("Masterpieces").
Curiously lame choices include "Baby let Me FYD" from "The Last Waltz" ("curiously lame" choice only because of its availability elsewhere) and the demo take of "Caribbean Wind" from '81 (doesn't fit in, despite its greatness). Of particular interest (and one I've not heard of previously) is an incredible version of "Ballad of Hollis Brown" listed as from the "3rd Annual Farewell Reunion" w/Mike Seeger. Absolutely fabulous version w/Dylan accompanied by banjo and perhaps another guitar -sounds like its from the 90's based on his voice. Definitive version, IMO. More info required on recording date of this, please. Lastly, another mention of the killer version of "People Get Ready" is warranted. Truly sublime stuff w/large chorus - was this really on the "Flashback" soundtrack (movie w/Kiefer "Almost had Julia" Sutherland" and Dennis Hopper)? Primo quality all around and with a little more thought could have been even better. Still, a lot of the material is no longer in print, so here's your chance to get it on CD. Let's hope there's a Volume 2 in Effective Mining's plans.
-- review from Beneath the Waves
The last track "Little Susie Shallow Throat" is not Dylan and has a particularly raunchy lyric (though not too much more so than the U.S. national news as of late).
Tracks
Playboys and Playgirls
BD and Pete Seeger Newport (1963)
House Of the Rising Sun
Highway 61 Interactive CD
Boogie Woogie Country Girl
Doc Pomus Tribute Album
Pretty Boy Floyd
Guthrie Tribute Album (1987 Studio Outtake)
Hollis Brown
3d Annual Farewell Reunion w/Mike Seeger
Heartland
BD w/Willie Nelson Outtake
Sign Language
BD w/Eric Clapton (No Reason to Cry Album)
The Usual
Hearts of Fire Soundtrack
Night After Night
Hearts of Fire Soundtrack
Hard Rain
1994 Great Music Experience
Song to Woody
1992 Tribute Concert
Nobody's Child
Wilbury's - Romanian Appeal Album
Band of the Hand
Sountrack
Carribean Wind
1981 Special Rider Demo
This Old Man
Disney Charity Album
People Get Ready
Flashback Soundtrack
You Belong to Me
Natural Born Killers Soundtrack
Rita Mae
Desire Outtake from Australian Masterpieces
Baby Let Me Follow You Down
Last Waltz w/Band
George Jackson
Acoustic Single Version
Little Susie Shallow Throat
Who knows....
Bob Dylan - Hard to Find - 1995 - Effective Mining Records
---
[History] [Members] [Library] [Discography] [Videography] [Filmography] [Pictures] [Audio Files] [Video Clips] [Tape Archive] [Concerts] [Related Artists] [Merchandise] [Guestbook] [Chat Room] [Search] [What's New?] [Main Page]
Webmaster