Bob Dylan: Isle of Wight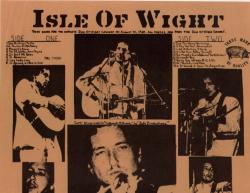 [LP cover] [Insert - Isle 509A/B bootleg] [US 1972 bootleg]
Bootleg LP from Dylan and the Band's concert on Isle of Wight, UK, 31 Aug 69. This 1972 LP contains the complete concert. All photos on the cover are from the actual show.
There are several other bootlegs with the same or other titles, and about the same content, e.g. Isle of Wight, UK 1970 (Blank Labels, CT A(B), GWA 44A), Isle of Wight, US 1970 (Isle 509A/B - white cover with insert), Isle of Wight, USA 1972 (TMQ GWA45,), Belle Isle, Europe 1983, Island Man, Germany 1986, Isle of Wight, CD 1994 (Wanted Man Music WMM 39), Bob Dylan in Concert, and Minstrel Boy.
Sound quality basically sucked big time on all of the boots from the Isle of Wight. Following the Great White Wonder, boots of this concert understandably turned a lot of people off to bootlegs.
Tracks
Side 1
She Belongs To Me
I Threw It All Away
Maggie's Farm
The Wild Mountain Thyme
It Ain't Me Babe
To Ramona
Lay Lady Lay
Highway 61 Revisited
Side 2
One Too Many Mornings
I Pity The Poor Immigrant
Like A Rolling Stone
I'll Be Your Baby Tonight
The Mighty Quinn
Minstrel Boy
Rainy Day Women # 12 & 35
Mr. Tambourine Man
I Dreamed I Saw St. Augustine
Bob Dylan - Isle of Wight - 1972 - TMQ 71050
---
[History] [Members] [Library] [Discography] [Videography] [Filmography] [Pictures] [Audio Files] [Video Clips] [Tape Archive] [Concerts] [Related Artists] [Merchandise] [Guestbook] [Chat Room] [Search] [What's New?] [Main Page]
Webmaster