Bob Dylan: Knight of the Hurricane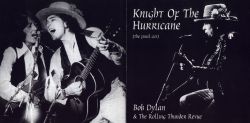 22-track 2CD Dylan bootleg, recorded at the Hurricane Carter benefit show, Madison Square Garden, New York City, NY, December 8th 1975. The source is and audience tape of outstanding quality. Has Robbie Robertson guesting on guitar on "It Takes A Lot To Laugh, It Takes A Train To Cry." Tapes from this concert also appeared on the bootleg The Hurricane Carter Benefit.
Review from Deep Beneath the Waves:
Let's make this one short and sweet. This is by far the best audience recording of a Rolling Thunder show, far eclipsing the Toronto tracks available on "Flagging Down the EEs" and easily setting the standard for a 75/76 audience tape of Rolling Thunder, IMO. The sound knocks me out - every nuance of voice and music is intact, Bob's vocals ring loud and clear (yes, even at very high volumes) and the recording retains a warmth that is unusual for a mid 70's tape. This one was worth the wait. Need I mention the performance? To me, these '75 gigs are arguably the most memorable of a career filled with memorables (sic). You gotta hear the guitar (Ronson?) on Hattie Carroll to believe it. Dylan's vocals rip at the heart of injustice and the guitar IS Hattie Carroll's screaming anguish. Incredible stuff. The duets with Baez are superb. MamaYouBin is a shit-kicking foot stomper.The band weaves a unique stew of rock-folk-country-Arabian-blues and seemingly creates a new type of music along the way - just call it Dylan. The solo acoustic tunes are incredibly sung, filled with sorrow and pain and regret and longing - Love-0, SimpleTwist, OhSister. Scarlett Rivera's violin is nothing short of remarkable - it's amazing how the "Desire" sound is recreated on stage by all the musicians. It just meshes, this traveling troupe of musicians and the king of the troubadors, blowing into NYCity and playing their asses off for Rubin Carter. OneMoreCup/Sara/JLAW - divine, all. This one sits nicely with the boards from this leg - Waterbury, Plymouth & Boston - and is a real stunner. Not to be missed.
Bob Dylan - Knight of the Hurricane - 1997 - Razor's Edge GWW 001/002
---
[History] [Members] [Library] [Discography] [Videography] [Filmography] [Pictures] [Audio Files] [Video Clips] [Tape Archive] [Concerts] [Related Artists] [Merchandise] [Guestbook] [Chat Room] [Search] [What's New?] [Main Page]
Webmaster