The Band: Life is a Drunkard!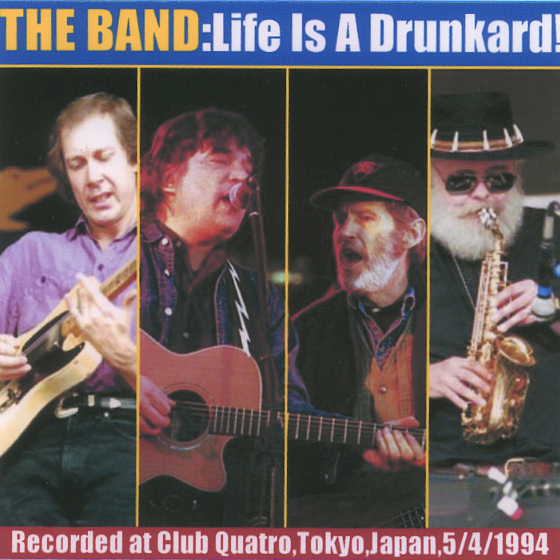 [CD Cover] [Back cover]
Japanese 2 CD The Band bootleg with the May 4, 1994 concert at Club Quatro, Tokyo, Japan. The line-up was Rick Danko, Levon Helm, Garth Hudson, Jim Weider, Richard Bell and Randy Ciarlante. Includes rare tracks like "Blue River," "Many Rivers to Cross (instrumental)," and "Kingfish". Soundboard recording.
The cover photos have all been copied from this web site. The photo of Levon and Rick are from their 1994 tour in Norway (the gig at Wrightegaarden in Langesund), while the back cover has a photo from a Canadian concert with Rick, Garth and Colin Linden.
Tracks
CD 1
Opening
Caledonia
Remedy
Crazy Mama
W.S. Walcott Medicine Show
Stuff Ya Gotta Watch
Blind Willie McTell
It Makes No Difference
Rag Mama Rag
Atlantic City
Caledonia Mission
Blue River
CD 2
Mystery Train
Move to Japan
Many Rivers to Cross (instrumental)
Kingfish
The Weight
Life Is a Carnival
The Shape I'm In
The Genetic Method
Chest Fever
Rock & Roll Shoes
The Band - Life Is A Drunkard! - 2003 - Happyweed Productions
---
[History] [Members] [Library] [Discography] [Videography] [Filmography] [Pictures] [Audio Files] [Video Clips] [Tape Archive] [Concerts] [Related Artists] [Merchandise] [Guestbook] [Chat Room] [Search] [What's New?] [Main Page]
Webmaster