Robbie Robertson & the Red Road Ensemble: Live in Italy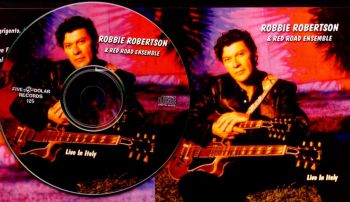 Robbie Robertson bootleg from his concert with the Music for the Native Americans' Red Road Ensemble, and some special guests, in Argiente, Italy, May 13, 1995. The concert was broadcasted on Italian TV, so the original source was probably a video tape of the show. The set list is incomplete.
It is interesting that this bootleg seems to be produced from material downloaded from The Band web site. The CD cover art is based on the scan of the cover of Earthstar magazine that was made for The Band site a couple of years ago, and the WAV-files on the CD are probably just copied from our audio pages.
Tracks
Golden Feather
Cherokee Morning Song
It's A Good Day To Die
Crazy Horse
Skin Walker
Bury Me At Wounded Knee
Coyote Dance
Hoop Dance
Untitled
Robbie Robertson & the Red Road Ensemble - Live in Italy - 2001 - Five Dollar Records FDR125
---
[History] [Members] [Library] [Discography] [Videography] [Filmography] [Pictures] [Audio Files] [Video Clips] [Tape Archive] [Concerts] [Related Artists] [Merchandise] [Guestbook] [Chat Room] [Search] [What's New?] [Main Page]
Webmaster