Bob Dylan: The Lonesome Sparrow Sings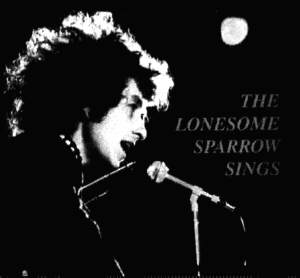 Bob Dylan bootleg including '65 recordings with Dylan and The Hawks. A "must have" CD for die-hards, with outtakes and different takes from Dylan's legendary 1965-66 albums.
Tracks
Bringing It All Back Home outtakes 13-15 Jan 65:
You Don't Have To Do That
It's All Over Now Baby Blue
If You Gotta Go
She Belongs To Me
Love Minus Zero

Miami Convention Center, May 12, 1965:

If You Gotta Go

Highway 61 Revisited outtakes, Jun 16 to Jul 30, 1965:

Sitting On A Barbed Wire Fence
Crawl Out Your Window
From A Buick 6
Desolation Row
Can You Please Crawl Out Your Window
I Wanna Be Your Lover
Jet Pilot Eyes

Blonde on Blonde outtakes Nov 1965 - Jan 1966:

Visions Of Johanna
Medicine Sunday
Visions Of Johanna
She's Your Lover Now.
Bob Dylan - The Lonesome Sparrow Sings - 19?? - 74:53 - Black Nite Crash 003
---
[History] [Members] [Library] [Discography] [Videography] [Filmography] [Pictures] [Audio Files] [Video Clips] [Tape Archive] [Concerts] [Related Artists] [Merchandise] [Guestbook] [Chat Room] [Search] [What's New?] [Main Page]
Webmaster