Ringo Starr: Rarities
23 Fab Gear Rare Tracks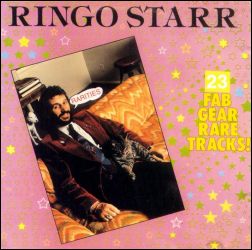 [CD cover]
Ringo bootleg with various live performances, outtakes etc. Tracks 1-5 recorded live in the US September 3-4 1989, with the All-Starr Band featuring Rick Danko and Levon Helm. Good sound quality.
Tracks
Tracks 1-5: Recorded on tour September 1989.
Tracks 12-13: From Tommy.
Tracks 14-16: From the abandoned Can't Fight Lightning album.
Tracks 18-23: Alternate takes from Ringo.
Yellow Submarine (Lennon/McCartney), live 09.03.1989
I Wanna Be Your Man (Lennon/McCartney), live 09.03.1989
Boys (Dixon/Farrell), live 09.03.1989
Act Naturally (Russell/Morrison), live 09.04.1989
With A Little Help From My Friends (Lennon/McCartney, live 09.04.1989
Honey Don't (Perkins), live with Carl Perkins 1987
Coochy Coochy (Starkey) B-Side to "Beaucoups of Blues"
Act Naturally (Russell/Morrison) with Buck Owens
Band Of Steel with Guthrie Thomas
Blindman (Starkey) B-Side of "Back off Boogaloo"
Just A Dream (Poncia/Starkey) B-Side of "A dose of Rock and Roll"
Fiddle About (Entwistle)
Tommy's Holiday Camp (Moon)
Working Up
Brandy
You Can't Fight Lightning
I Call Your Name (Lennon/McCartney) w/Tom Petty, Joe Walsh, Jeff Lynne and others, from the 1990 10-year TV anniversary for John Lennon.
Six O'Clock (McCartney)
Six O'Clock (McCartney)
Six O'Clock (McCartney)
Six O'Clock (McCartney)
Six O'Clock (McCartney)
Hold On-Have You Seen My Baby (Newman)
Ringo Starr - Rarities - 2000 - Ghost 53-58
---
[History] [Members] [Library] [Discography] [Videography] [Filmography] [Pictures] [Audio Files] [Video Clips] [Tape Archive] [Concerts] [Related Artists] [Merchandise] [Guestbook] [Chat Room] [Search] [What's New?] [Main Page]
Webmaster