Robert Allyn & The Crackers: Rhyme Beyond Reason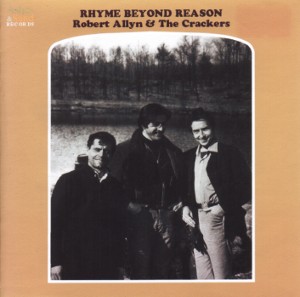 [Front insert] [Rear insert] [Rear CD]
This is a new bootleg CD of Basement Tapes selections. The insert has Elliot Landy pictures of Dylan & The Hawks taken at the same spot.The front has them as Robert Allyn & The Crackers, the rear as Bob Dylan & The Hawks.
Why a new and incomplete selection at this point in time? The compilers say it's "Fourteen lesser known cuts from the Basement Tapes edited and sequenced into a plausible album format. Plus ten more shortlisted for this project."
So it's a fan's personal mixtape of the Basement Tapes, and you'd have to argue that "You Ain't Going Nowhere" is hardly a lesser-known track. The others are.
The starting point You Gotta Quit Kickin' My Dog Around is a novel place to begin but works very well with Dylan exhorting the Hawks to find harmonies. I would say Garth is there on the "Bark Bark Bark" chorus too. The sequence is quite inspired bringing a new angle. All American Boy leaps out as far more intersting than I'd ever thought it, and seques into I'm Your Teenage Prayer with them taking the piss out of early 60s rock groups. I'd never noticed before them breaking up when Richard's response to "I'm Your Teenage Prayer" near the end is "I'm Your Teenage Hair." It focuses on songs which have Hawks background comments and calls and build up the atmosphere of having a ball. And it's a very clean version of the songs too. I'm glad I bought this, even though I have a shelf of basement versions.
--Peter Viney
Tracks
You Gotta Quit Kickin' My Dog Aroun'
All American Boy
I'm Your Teenage Prayer
Folsom Prison Blues
Get Your Rocks Off
You Ain't Goin' Nowhere
Odds and Ends
The Spanish Song
Johnny Todd
I Forgot To Remember To Forget
Banks of The Royal Canal
Joshua Gone Barbados
Four Strong Winds
Sign On The Cross
Interval
Yea! Heavy and A Bottle of Bread
Crash on the Levee
Lo and Behold
Tears of Rage
The Mighty Quinn
Nothing Was Delivered
(Be Careful Of) The Stones That You Throw
Rock, Saly & Nails
A Fool Such As I
I'm Not There (1956)
Robert Allyn & The Crackers - Rhyme Beyond Reason - 2010 - Ashes & Sand AAS-21
---
[History] [Members] [Library] [Discography] [Videography] [Filmography] [Pictures] [Audio Files] [Video Clips] [Tape Archive] [Concerts] [Related Artists] [Merchandise] [Guestbook] [Chat Room] [Search] [What's New?] [Main Page]
Webmaster