The Band: Syria Mosque 1970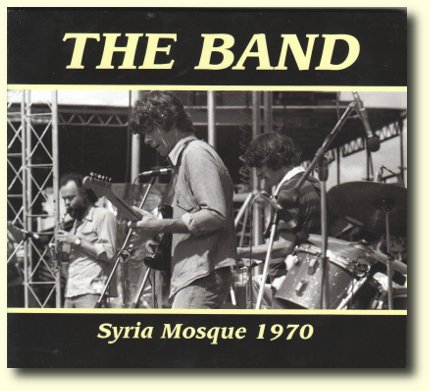 [CD cover] [Rear cover] [Insert]

Bootleg mostly lifted from a Dutch TV recording of The Band's concert at the Syria Mosque in Pittsburgh in November 1970. This material has surfaced on several bootlegs over the years. The recording is a mono line feed from the camera crew, supposedly.

The 2013 Japanese bootleg from "Hook & Jab Productions" seem to be based on an audio edit/restoration of the gig done by one of the contributors to The Band web site. The CD has good photos. Inside the back insert, covered by the transparent insert, are pictures of nine other Band records, with overlaid writing in Japanese. Some have familiar covers (MM, NLSC), others not. It suggests there's a series of them out there.
Tracks
The WS Walcott Medicine Show
This Wheel's on Fire
Rockin' Chair
Strawberry Wine
Unfaithful Servant
The Weight
We Can Talk
Up On Cripple Creek
The Shape I'm In
Time To Kill
King Harvest (Has Surely Come)
Look Out Cleveland
The Rumor
Stage Fright
The Night They Drove Old Dixie Down
Across the Great Divide
I Shall Be Released
Slippin' And Slidin'
The Band - Syria Mosque 1970 - 2013 - Hook & Jab Productions
---
[History] [Members] [Library] [Discography] [Videography] [Filmography] [Pictures] [Audio Files] [Video Clips] [Tape Archive] [Concerts] [Related Artists] [Merchandise] [Guestbook] [Chat Room] [Search] [What's New?] [Main Page]
Webmaster