The Band & Friends: Woodstock 94
(2 CDs)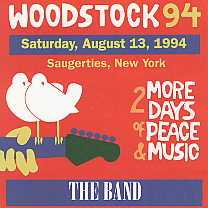 [Front cover] [Back cover] [Insert]
Bootleg from the Band's performance at the 25th anniversary Woodstock festival, Winston Farm, Saugerties, NY. The Woodstock '94 "friends" were Jorma Kaukonen, Jack Casady, Rob Wasserman, Bob Weir, Bruce Hornsby and Roger McGuinn.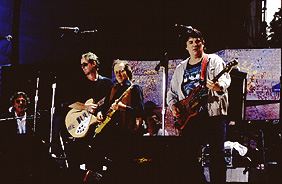 The Band w/guests at Woodstock '94

Several songs from the Band's set are missing from the bootleg CD (see below for details), almost all song titles on the CD jackets are wrong or misspelled. The boot is directly from the PPV broadcast.
Tracks
Disc 1
Caledonia (with Roger McGuinn)
Remedy (with Roger McGuinn)
Blind Willie McTell (with Roger McGuinn, end cut)
It Makes No Difference (with Roger McGuinn, beginning cut)
Atlantic City (with Roger McGuinn)
Rag Mama Rag
Caledonia Mission
Crazy Mama
Don't Do It (interrupted as PPV goes to Melissa Etheridge)
The Weight (with Bruce Hornsby, Jack Casady and Jorma Kaukonen)
Mystery Train (with Jack Casady and Jorma Kaukonen)
Stuff Ya Gotta Watch
Stage Fright
Ophelia
Disc 2
Life Is a Carnival
Willie & the Handjive (with Bruce Hornsby)
The Shape I'm In
The Genetic Method
Chest Fever
Rock'n Roll Shoes (with Bob Weir & Rob Wasserman)
Disc 2 also includes the following songs performed by Bob Weir and Rob Wasserman:

The Fever
Eternity
Throwing Stones (with Bruce Hornsby)
Satisfaction Bass Solo
The full set list for The Band's show (including "friends'" performances) at Woodstock '94 was
Caldonia
Remedy
Blind Willie McTell
It Makes No Difference
Atlantic City
Rag Mama Rag
Caledonia Mission
Crazy Mama
Don't Do It
Knockin' On Heaven's Door *
Embryonic Journey *
Java Blues *
The Weight
Mystery Train
Stuff Ya Gotta Watch
Stage Fright
Ophelia
Life Is A Carnival
Willie & The Hand Jive
The Shape I'm In
The Genetic Method
Chest Fever
I Don't Wanna Hang Up My Rock & Roll Shoes
Fever
Eternity
Throwing Stones
Satisfaction Bass Solo
Easy Answers *
Valley Road *
Take Me To The River *
I Shall Be Released *
(*=not broadcast on PPV)

The Band - Woodstock 94 - 1995 - Amcos Joker Productions WOOD-004/005
---
[History] [Members] [Library] [Discography] [Videography] [Filmography] [Pictures] [Audio Files] [Video Clips] [Tape Archive] [Concerts] [Related Artists] [Merchandise] [Guestbook] [Chat Room] [Search] [What's New?] [Main Page]
Webmaster