Rick Danko: Christmas Must Be Tonight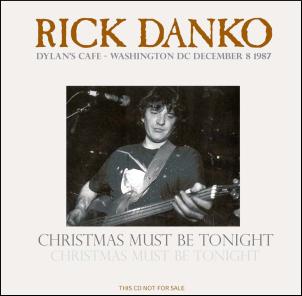 [CD cover] [Back cover]
2-CD bootleg "released" in 2001, with Rick's concert (2 sets) at Dylan's Cafe in Washington, DC, December 8, 1987.
Excellent sound quality, from a DAT copy of a soundboard recording master tape:
Cassette flip during "It Makes No Difference" causes a cut.
CD 1 is the early show, CD 2 is the late show.
"Christmas Must Be Tonite" and "When You Awake" were dedicated to our friend "fish."
2nd version of "Christmas Must Be Tonite" is from The Gentry, Washington, DC, 9-dec-1984,.
Tracks
Disc 1
Java Blues
Christmas Must Be Tonight
Going Back to Alabama
Stage Fright
CC Rider
Twilight
Sick & Tired
Blue Tail Fly
Long Black Veil
Caledonia Mission
My Love
The Weight
Bartender Blues
It Makes No Difference
Mystery Train
Every Night & Every Day
Disc 2
When You Awake
When I Get My Rewards
Sunny Side of Life
Brainwash
Blaze of Glory
My Baby Left Me
It Makes No Difference
Once Upon a Time
What a Town
Missing In Action
Honest I Do
The Weight
Wish You Were Here With Me
Java Blues
Stage Fright
Small Town Talk
Long Black Veil
Acadian Driftwood
My Love
Blue Tail Fly
Mystery Train
Rivers of Babylon
Christmas Must Be Tonight
Rick Danko - Christmas Must Be Tonight - 2001 - Run For Cover Productions
---
[History] [Members] [Library] [Discography] [Videography] [Filmography] [Pictures] [Audio Files] [Video Clips] [Tape Archive] [Concerts] [Related Artists] [Merchandise] [Guestbook] [Chat Room] [Search] [What's New?] [Main Page]
Webmaster