Bob Dylan: The Bootleg Series Vols. 1-3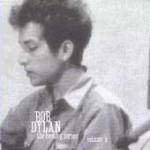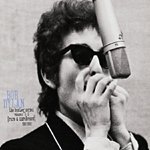 This 3 CD/cassette package contains 59 tracks. The disc running times are: Disc 1: 77.08, Disc 2: 77.20 and Disc 3: 76.41. The material is taken from Dylan's 30-year career, from the 1961 "Minnesota Hotel Tape", to outtakes from 1989's Oh Mercy. The set consists of live or previously unreleased versions, and alternate takes of Dylan's songs and is packaged in a 6" x 12" box with many rare photos and extensive liner notes by British journalist and noted Dylan authority John Bauldie.
The set includes several drastically different versions of hits ("Like A Rolling Stone" as a piano waltz, a solo "Subterranean Homesick Blues"), 4 tracks from the original unreleased Blood on the Tracks sessions, and a remarkable version of "Blind Willie McTell," recorded in 1983 and left off Infidels.
The Band can be heard playing with Dylan on five tracks on this boxed set, the recordings are from 1966, 1967 and 1973. Includes two previously unreleased 65/66 studio tracks with the Band, and two more "Basement" tracks.
Tracks
Hard Times In New York Town (live in a Minnesota hotel room)
He Was A Friend Of Mine (outtake from Bob Dylan)
Man On The Street (outtake from Bob Dylan)
No More Auction Block (live at The Gaslight Cafe in Greenwich Village, NY)
House Carpenter (outtake from Freewheelin' Bob Dylan)
Talkin' Bear Mountain Picnic Massacre Blues (outtake from Freewheelin)
Let Me Die In My Footsteps (outtake from Freewheelin)
Rambling Gambling Willie (outtake from Freewheelin)
Talkin' Hava Negeliah Blues (outtake from Freewheelin)
Quit Your Low Down Ways (outtake from Freewheelin)
Worried Blues (outtake from Freewheelin)
Kingsport Town (outtake from Freewheelin)
Walkin' Down The Line (demo)
Walls Of Red Wing (outtake from Freewheelin)
Paths Of Victory (outtake from The Times They Are A-Changin')
Talkin' John Birch Paranoid Blues (live at Carnegie Hall)
Who Killed Davey Moore? (live at Carnegie Hall)
Only A Hobo (outtake from The Times They Are A-Changin')
Moonshiner (outtake from The Times They Are A-Changin')
When The Ship Comes In (piano demo)
Times They Are A-Changin', The (demo)
Last Thoughts On Woody Guthrie (a poem recited live at Town Hall)
Seven Curses (outtake from The Times They Are A-Changin')
Eternal Circle (outtake from The Times They Are A-Changin')
Suze (The Cough Song) (outtake from The Times They Are A-Changin')
Mama, You've Been On My Mind (outtake from Bringing It All Back Home)
Farewell, Angelina (outtake from Bringing It All Back Home)
Subterranean Homesick Blues (alternate version)
If You Gotta Go, Go Now (Or Else You Got To Stay All Night) (outtake from
Bringing It All Back Home)
Sitting On A Barbed Wire Fence (outtake from Highway 61 Revisited)
Like A Rolling Stone (rehearsal)
It Takes A Lot To Laugh, It Takes A Train To Cry (alternate)
I'll Keep It With Mine (rehearsal)
She's Your Lover Now (outtake from Blonde On Blonde)
I Shall Be Released (fall outtake from The Basement Tapes)
Sante-Fe (fall outtake from The Basement Basement Tapes)
If Not For You (alternate version)
Wallflower (studio version)
Nobody `Cept You (outtake from Planet Waves)
Tangled Up In Blue (original N.Y. session for Blood On The Tracks)
Call Letter Blues (outtake from Blood On The Tracks)
Idiot Wind (original N. Y. session for Blood On The Tracks)
If You See Her, Say Hello (original N. Y session for Blood On The Tracks)
Golden Loom (outtake from Desire)
Catfish (outtake from Desire)
Seven Days (live in Tampa)
Ye Shall Be Changed (outtake from Slow Train Coming)
Every Grain Of Sand (demo)
You Changed My Life (outtake from Shot Of Love)
Need A Woman (outtake from Shot Of Love)
Angelina (outtake from Shot Of Love)
Someone's Got A Hold Of My Heart (early version of the song "Tight Connection To My Heart")
Tell Me (outtake from Infidels)
Lord Protect My Child (outtake from Infidels)
Foot Of Pride (outtake from Infidels)
Blind Willie McTell (outtake from Infidels)
When The Night Comes Falling From The Sky (original version)
Series Of Dreams (outtake from Oh Mercy)
Sidemen
(only members of the Band listed)

Bob Dylan with the Band - Bootleg Series Vols. 1-3 - 229:35 - 1991 - Columbia C3K 47382

AMG Rating: 8 (out of 9)
---
[History] [Members] [Library] [Discography] [Videography] [Filmography] [Pictures] [Audio Files] [Video Clips] [Tape Archive] [Concerts] [Related Artists] [Merchandise] [Guestbook] [Chat Room] [Search] [What's New?] [Main Page]
Webmaster