Various Artists:
Borrowed Tunes - A Tribute to Neil Young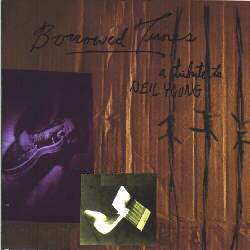 On this Canadian 2-disc compilation, 35 bands and artists interpret different songs by Neil Young, including "Albuquerque" (Treble Chrager), "Burned" (Barenaked Ladies), "Cinnamon Girl" (Andy Curran), "Comes a Time" (Prescott/Brown), "Coupe de Ville" (Philosopher Kings), "Don't Let It Bring You Down" (Amanda Marshall), "Down by the River" (Wild "T"), "Fuckin' Up" (Junkhouse), "I've Been Waiting for You" (Blue Rodeo), "Like a Hurricane" (Barney Bentall), "The Loner" (Randy Bachman), "Mr. Soul" (Skydiggers), "The Needle and the Damage Done" (Our Lady Peace), "Southern Man" (Mystery), and "When You Dance I Can Really Love" (Big Sugar).
The best part of this CD is that all profits go towards funding education for the physically and mentally handicapped, a fitting cause considering the fact that Neil Young has two children with varying degrees of cerebral palsy.
Rick Danko is present on two tracks, one of them is "Tonight's the Night" where he performs together with Canadian Band-cohort Colin Linden.
Sidemen
(only members of the Band listed)

Various Artists - Borrowed Tunes: A Tribute to Neil Young - 1994 - Everyman 72K80199
---
[History] [Members] [Library] [Discography] [Videography] [Filmography] [Pictures] [Audio Files] [Video Clips] [Tape Archive] [Concerts] [Related Artists] [Merchandise] [Guestbook] [Chat Room] [Search] [What's New?] [Main Page]
Webmaster