Various Artists: The Golden Age of American Rock & Roll -- Bubbling Under Special Edition
Regional Hits That Just Missed the Hot 100 1959-1963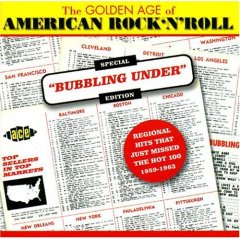 ---
Review by Peter Viney
---
This has 'Bo Diddley' by Ronnie Hawkins which it states was Roulette 4483 and US #117 in 1963. As ever with the Golden Age series, the booklet is stuffed with memorabilia and excellent essays, including an essay on this track. It also features a certain well-known photo of Ronnie & The Hawks on stage, which is Photo 6 of the Brass Rail Tavern, 1963, set on the Band site.
The notes say:
"If any record could be considered to be ahead of its time, then this was it. Over in England, 'Please Please Me' by The Beatles was just breaking while The Stones were still four months away from making their first record and Eric Clapton could be found gigging with pop bands in Surrey. In the states, Paul & Paula were holding down the US #1 spot with the syrupy 'Hey Paula'. Hawkins 'Bo Diddley' was a wild card seemingly lacking a target market, yet it sounded sensational on the air and you could dance a wild dance to it in places like the Peppermint Lounge".
The Bubbling Under Special Edition features some wonderful regional hits which just failed to make the Top 100 and is full of stuff that you only failed to hear by a whisker.
Tracks
Tore Up - Harmonica Fats
The White Cliffs Of Dover - The Robins
Colinda - Rod Bernard
Bo Diddley - Ronnie Hawkins
Need Your Love - The Metallics
Cut You A-Loose - Ricky Allen
Ronnie Is My Lover - The Delicates
If The World Don't End Tomorrow (I'm Comin' After You) - Doug Warren & The Rays
I Got Burned - Ral Donner
Seagrams aka Seagreen - The Viceroys
Bring Back Your Heart - The Del Vikings
A Story Untold - The Emotions
Bustin' Surfboards - The Tornadoes
Gee Baby - Joe & Ann
Trouble Up The Road - Jackie Brensten
How Will It End? - Barry Darvell
Come Dance With Me - Eddie Quinteros
All Night Long Part 2 - Robert Parker
Maybe You'll Be There - Billy & The Essentials
Louisiana Man - Rusty & Doug
Book Of Love - Bobby Bare
My Type Of Girl - The Memos
Holy One - Freddie Fender
Over You - Aaron Neville
Life Is But A Dream - The Earls
Nut Rocker - Jack B Nimble & The Quicks
The Wind - The Jesters
I'm So Happy (Tra La La) - The Ducanes
Kiss Tomorrow Goodbye - Danny White
Shim Sham Shuffle - Ricky Lyons
Various Artists - The Golden Age of Rock & Roll - 2006 - Ace CDCHD 1060
---
[History] [Members] [Library] [Discography] [Videography] [Filmography] [Pictures] [Audio Files] [Video Clips] [Tape Archive] [Concerts] [Related Artists] [Merchandise] [Guestbook] [Chat Room] [Search] [What's New?] [Main Page]
Webmaster