Various Artists: Celtic Woman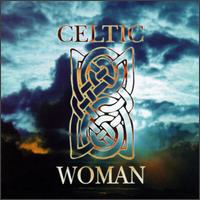 This 1996 release was the first in a series of "Celtic compilations" on the Celtic Woman Records/Grapevine label. It is a joint venture between seven female singers: Loreena McKennitt, Rita Connolly, Maighread Ni Dhomhnaill, Melanie O' Reilly, Marian Bradfield, Aine Furey and Fiona Joyce, whose styles vary from orchestral to trad to jazz to modern.
Strangely enough, Garth Hudson is credited as "conductor" on this compilation, I am not sure if this really is the Garth...
Tracks
Annachie Gordon - Loreena McKennit
Venezuela - Rita Connolly
13 Wishes - Aine Furey
Tonight Is Just For Us - Marion Bradfield
Is Fada Liom Uaim I - Maighread Ni Dhomhnaill
This Place - Melanie O'Reilly
Trees - Fiona Joyce
Huron 'Beltane' Fire Dance - Loreena McKennit
Ripples in the Rockpools - Rita Connolly
Hand In Hand - Aine Furey
You're a Heathen of Love - Marion Bradfield
An Cailin Gaelach - Maighread Ni Dhomhnaill
Annie Moore - Melanie O'Reilly
This Moment - Fiona Joyce
Sidemen
Donal Lunny - Guitar, Arranger, Keyboards
Mairead Ni Dhomhnaill - Arranger, Vocals
Larry Coryell - Guitar
Brian Hughes - Guitar
Shaun Davey - Synthesizer, Arranger
Rita Connolly - Arranger, Vocals, Main
Triona Ni Dhomhnaill - Arranger, Keyboards, Vocals
The Voice Squad - Group
Eileen Ivers - Fiddle
Maire Breatnach - Violin, Viola
Greg Boland - Guitar (Acoustic)
Richie Buckley - Sax (Tenor)
Gerry Cullen - Choir, Chorus
Michael O'Domhnaill - Guitar
Ronan Dooney - Trumpet, Flugelhorn
Noel Eccles - Percussion, Chimes, Cymbals, Maraccas, Triangle, Surdo, Guiro, Crotale
Carl Geraghty - Sax (Baritone)
Garth Hudson - Conductor
John Hurley - Guitar (Acoustic), spanish guitar
Rick Lazar - Conga
Paul McAteer - Drums
Loreena McKennitt - Arranger, Harp, Keyboards, Vocals, Bodhran
Fran McPhail - Choir, Chorus
Paul Moore - Guitar (Bass)
Paul Moran - Percussion
Martin O'Connor - Button Accordion
Liam O'Flynn - uillean pipes
Eoghan O'Neill - Guitar (Bass), Fretless Bass Guitar
Oliver Twisted Schroer - Fiddle
Davy Spillane - Whistle (Instrument)
Nigel Walker - Fiddle
Dave Woodhead - Mandolin
Helen Davies - Irish Harp
Fiona Joyce - Guitar (Acoustic), Vocals,
Main Performer on Various Artists Album
Marian Bradfield - Guitar (Acoustic), Vocals
Melanie O'Reilly - Vocals
Joe McKenna - Whistle (Instrument)
Des Moore - Guitar (Acoustic), Mandolin
Stephen McDonnell - Trumpet, Flugelhorn
Colm McElwee - Percussion
Phil Callery - Choir, Chorus
Mary Kettle - Mastering
Maurice Lennon - Violin
Various Artists - Celtic Woman - 1996 - Celtic Woman Records CWRCD 7001
---
[History] [Members] [Library] [Discography] [Videography] [Filmography] [Pictures] [Audio Files] [Video Clips] [Tape Archive] [Concerts] [Related Artists] [Merchandise] [Guestbook] [Chat Room] [Search] [What's New?] [Main Page]
Webmaster