Paul Cotton: Changing Horses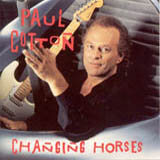 Rock guitarist Paul Cotton started the group Illinois Speed Press that released two albums on the Columbia label, then replaced Jim Messina in Poco in 1970. Cotton left Poco in the mid '80s. His 1990 solo debut Changing Horses is more rock and less country than most of Poco's music. Paul Cotton has been playing again with the '90s version of Poco.
Changing Horses includes a new version of his Poco hit "Heart of the Night," featuring Garth Hudson on accordion.
Tracks
I Can Hear Your Heartbeat (Chris Rea)
I Walk The River (Paul Cotton)
Tiger On The Lawn (Paul Cotton)
Here In Paradise (Paul Cotton)
One Long Last Look (Paul Cotton)
Heart Of The Night (Paul Cotton)
After All These Years (Paul Cotton)
Jamaican High (Paul Cotton)
High Water (Paul Cotton)
From Across A Crowded Room (Jeff Steele)
Sidemen
Paul Cotton: vocals, guitar
Steve Lukather: guitars
Christopher Cross: background vocals
Rob Meurer: keyboards
Paul Brown: keyboards
Michael Landau: guitar
Buzz Feiten: guitar
Freddie Washington: bass
Gary Mallaber: drums
Paulinho da Costa: percussion
Mark Shark: guitar
Lenny Castro: percussion
Jeff Steele: basses
Sam Riney: sax
Joe Sublett: sax
Natasha Kapur: vocals
Portia Griffin: vocals
Garth Hudson: accordion
Roscoe Beck: bass
Bunny Hull: vocals
Paulette Brown: vocals
Paul Cotton - Changing Horses - 1990 - Curb 77701
---
[History] [Members] [Library] [Discography] [Videography] [Filmography] [Pictures] [Audio Files] [Video Clips] [Tape Archive] [Concerts] [Related Artists] [Merchandise] [Guestbook] [Chat Room] [Search] [What's New?] [Main Page]
Webmaster