Various Artists: City Folk Live IV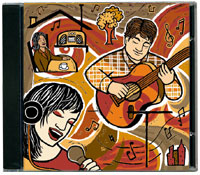 Various-artists CD released by the public radio station WFUV 90.7, with in-studio performances from their Studio A at Fordham University, Bronx, NY. Available only with WFUV membership (see http://www.wfuv.org/).
The last track on City Folk IV is "Twilight," with Rick Danko and Aaron Hurwitz, from a 1999 program promoting the Live on Breeze Hill album.
Tracks
Shawn Colvin, "Polaroids"
Action Figure Party, "George and Cindy"
Dan Hicks and the Hot Licks, "Canned Music"
Merrie Amsterberg, "Radio"
Travis, "Driftwood"
Jill Sobule, "Too Cool to Fall In Love"
Cousteau, "Last Good Day of the Year"
Jenifer Jackson, "Whole Wide World"
Vinicius Cantuaria, "Ordinaria"
Alejandro Escovedo, "Wave"
Chris Smither, "Shake These Blues"
Cowboy Junkies, "I'm So Open"
Rodney Crowell, "Rock of My Soul"
Jonatha Brooke, "Linger"
Joseph Arthur, "In the Sun"
Rick Danko, "Twilight"
Various Artist - City Folk Live IV - 2000 - WFUV 90.7
---
[History] [Members] [Library] [Discography] [Videography] [Filmography] [Pictures] [Audio Files] [Video Clips] [Tape Archive] [Concerts] [Related Artists] [Merchandise] [Guestbook] [Chat Room] [Search] [What's New?] [Main Page]
Webmaster