Classic Masters - Robbie Robertson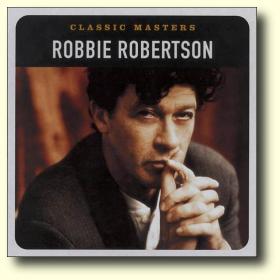 Compilation of remastered Robbie Robertson solo material, released by EMI/ Capitol in July 2002.
The albums in the Classic Masters series are all 12-song CDs with tracks mined from the vaults of EMI's and Capitol's extensive family of labels. The music has been 24-bit digitally remastered and comes with extensive liner notes and color photos. The CD contains tracks from the albums Contact from the Underworld of Red Boy and Music for the Native Americans, some with new mixes.
Other artists and groups presented on Classic Masters CDs include Arrested Development, B.B. King, Blind Melon, Concrete Blonde, Cornelius Brothers & Sister Rose, General Public, Michael Johnson, The Hollies, The Motels, Quicksilver Messenger Service, The Sylvers and A Taste of Honey.
See Jonathan Katz' review of Classic Masters for more about this compilation.
Tracks
Making a Noise (Olympic version)
Stomp Dance
Unbound
Ghost Dance (new mix)
Coyote Dance
In the Blood
The Code of Handsome Lake
Mahk Jchi
Sacrifice
The Sound Is Fading
Golden Feather (new mix)
Peyote Healing
Take Your Partner By The Hand (new mix)
Robbie Robertson - Classic Masters - 2002 - EMI/ Capitol Records 39858
---
[History] [Members] [Library] [Discography] [Videography] [Filmography] [Pictures] [Audio Files] [Video Clips] [Tape Archive] [Concerts] [Related Artists] [Merchandise] [Guestbook] [Chat Room] [Search] [What's New?] [Main Page]
Webmaster