Paul Jones: Come Into My Music Box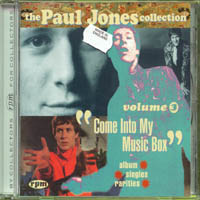 Paul Jones, the lead singer of Manfred Mann from 1963 to 1966, had a couple of British Top Ten hits in 1966 and 1967 with "High Time" and "I've Been a Bad Bad Boy." His late '60s solo albums, mostly filled with MOR pop versions of often rather perversely selected material, never sold well in the US. He gave up his active musical career around 1970, turning to acting and producing.
Jones' third and final album of the 1960s was no less of a patchy, underachieving affair than his previous two efforts. Still a first-rate vocalist, he was an all-too definitive example of a talented singer sorely in need of direction, not to mention better material and production. Jones continued to try and hit all the bases, covering everything from "The Weight" and "Procol Harum" to the Foundations' "Baby Now That I've Found You," Donovan's "Celeste," Marvin Gaye's "How Sweet It Is," "Aaron Neville's "Tell It Like It Is," and Bob Dylan's "Wheels on Fire." His stab at "Aquarius" from the Hair soundtrack was even a tiny hit. The cut-rate swinging-sixties production makes some of this sound more appropriate for West End theater than rock. Pink Floyd obsessives should note the presence of "The Committee," the theme (co-written by Jones) for a TV movie of the same name with an unreleased soundtrack by Pink Floyd. The end result of trying to please all factions, of course, was that he didn't please anybody, although a couple of odd psychedelic pop numbers, particularly the mysterious and tuneful "I'm Here to Nudge Your Mind," aren't bad. The album is now available in its entirety on RPM's The Paul Jones Collection Vol. 3: Come into My Music Box, which adds 11 non-LP bonus cuts from the same era. Guest musicians include Paul McCartney, Jeff Beck and Nick Mason.
-- from the All-Music Guide
CD Tracks
Come Into My Music Box
Tell It Like It Is
Baby Now That I'Ve Found
The Float
Celeste
It's Getting Better
Pick Up In The Morning
How Sweet It Is
The Committee
Homburg
I'm Here To Nudge Your Mi
I'm A Young Boy
And The Sun Will Shine
The Dog Presides
When I Was Six Years Old
You Have No Idea
My Advice To You
I Don'T Believe In You
Aquarius
Pisces
Not Before Time
Shake A Hand
Cat's Eyes
Paul Jones - Come Into My Music Box - 1969 - ?
---
[History] [Members] [Library] [Discography] [Videography] [Filmography] [Pictures] [Audio Files] [Video Clips] [Tape Archive] [Concerts] [Related Artists] [Merchandise] [Guestbook] [Chat Room] [Search] [What's New?] [Main Page]
Webmaster