The Dixie Hummingbirds: Diamond Jubilation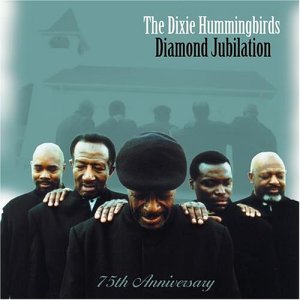 [Alternative cover] [Session photo] [Session video clips] [Detailed cover art]
75th Anniversary CD of gospel legends the Dixie Hummingbirds, released in October 2003. Musical guests include Levon Helm and Garth Hudson from The Band, Dr. John, and Larry Campbell, Tony Garnier, and George Recile from Bob Dylan's touring band. The CD, which has one song by Bob Dylan ("City of Gold") as well as one from Julie Miller, is produced by Larry Campbell, engineered by Randy Friel and mixed by Shelly Yakus and Mike Newman.
Garth and Levon and the members of Dylan's band did some jam sessions in the studio during the recording of Diamond Jubilation. These jams were videotaped and made available on the internet as RealVideo clips in May 2003.
Tracks
1.
God's Radar
2.
He Watches Out For You And Me
3.
Too Many Troubles
4.
Someday
5.
When I Found Jesus Christ
6.
When I Go Away
7.
I've Been Born Again
8.
City of Gold
9.
Nobody's Fault
10.
I Bid You Godnight
11.
Rasslin' Jacob
Credits
The Dixie Hummingbirds:
Ira Tucker Sr. - Lead Vocals
Lyndon Baines Jones
William Bright
Frank Frierson
James Williams
Enoch Webster.
Musicians:
Tony Garnier - Bass
Garth Hudson - Accordion, Hammond B3, Keyboards
Levon Helm - Drums
Dr. John - Keyboards
Larry Campbell - Electric Guitar, Acoustic Guitar, Mandolin, Violin
George Recile - Rub Board, Tambourine, Triangle, Shakers
The Dixie Hummingbirds - Diamond Jubilation - 2003 - Treasure Records
---
[History] [Members] [Library] [Discography] [Videography] [Filmography] [Pictures] [Audio Files] [Video Clips] [Tape Archive] [Concerts] [Related Artists] [Merchandise] [Guestbook] [Chat Room] [Search] [What's New?] [Main Page]
Webmaster