Rick Robbins with Rory Block: Don't Deny My Name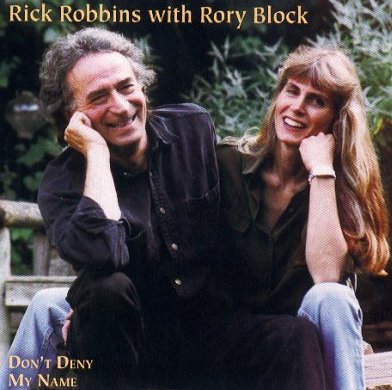 Rick Robbins, born in 1946, grew up listening to Woody Guthrie, Leadbelly, Sonny Terry, Brownie Mcghee, Cisco Houston and Jack Elliott. In 1965 Rick hit the road as a travelling folk musician, playing with Arlo Guthrie and others. Rick was on the road with his guitar up until 1978 when he settled down to build houses and learn architectural design - "I stopped touring the country, but I never stopped picking and singing , the music was always there".
One day in 1995 Rick was trading his construction skills on a music studio for renowned sound engineer, Ron Bach, in exchange for some recording time to preserve a few treasured folk songs for his family when award-winning blues woman, Rory Block, happened to be listening in and loved what she heard. She added a few vocals of her own and urged Rick to record a whole album. Making it all happen took over two years, and in 97' Rick was back into the music with the release of his first CD Walkin' Down The Line, producd by Rory Block, and with guest appearances by Arlo Guthrie, Ramblin' Jack Elliott, John Sebastian, Eric Weissberg, Larry Campbell and Rory.
Robbins' 2001 album Don't Deny My Name is again produceded by Rory Block, with special guests John Sebastian, The Band's Garth Hudson, Larry Campbell, and Steve Ide.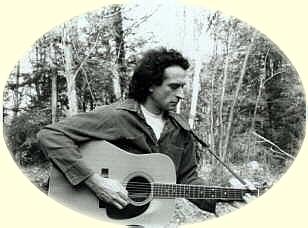 Tracks
Rovin Gambler
Broke Down Engine
Bandit of Brazil
I Ride an Old Paint
Freight Train Blues
Sunday Morning Coming Down
Dylan's Dream
Arthritis Blues
Billy
Beautiful Brown Eyes
The South Coast
The Last Letter
Rick Robbins - Don't Deny My Name - 2000 - Seeds Of Man Records #?

---
[History] [Members] [Library] [Discography] [Videography] [Filmography] [Pictures] [Audio Files] [Video Clips] [Tape Archive] [Concerts] [Related Artists] [Merchandise] [Guestbook] [Chat Room] [Search] [Whats New?] [Main Page]
Webmaster