Four Men & a Dog: Dr. A's Secret Remedies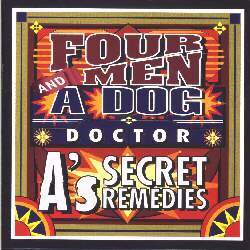 This 1995 CD from the Irish band Four Men & a Dog was recorded in Woodstock, NY, at Levon Helm's studio. It features Garth Hudson and Randy Ciarlante from the current line-up of the Band. The producer of the CD is Aaron Hurwitz (Dr. A), who also produced most of the Band's 1993 album Jericho.
For Men & a Dog toured the UK in the fall of 1995, with the unstoppable Rick Danko as special guest. At these gigs, Rick and the group played versions of Band classics like "It Makes No Difference", "Stagefright", and "Twilight".
Sidemen
(only members of the Band listed)
Randy Ciarlante, drums
Garth Hudson, piano/accordion
Four Men & a Dog - Dr. A's Secret Remedies - 1995 - Transatlantic (Castle) 106
---
[History] [Members] [Library] [Discography] [Videography] [Filmography] [Pictures] [Audio Files] [Video Clips] [Tape Archive] [Concerts] [Related Artists] [Merchandise] [Guestbook] [Chat Room] [Search] [What's New?] [Main Page]
Webmaster