Artist Bio: NORAH JONES
When Norah Jones released her debut disc, Come Away With Me, on Blue Note Records in February 2002, the then 22-year-old singer had no idea the album would be a best-seller. In fact, she kept her expectations low. "I like having low expectations, 'cause then if something turns out well, you're always surprised in a good way," says Jones at Sear Studios in New York while doing the final mixes on her new album.

As it turns out, Jones enjoyed an abundance of surprises. A runaway hit, Come Away With Me became a multi-Grammy winner, multi-platinum seller and opened the door for her to perform around the world with her band. Her producer Arif Mardin surmises that the CD was a tipping-point album. "People were ready for heartfelt music," he says, while working with Jones on the mixes. "Norah is in the vanguard of another kind of pop music listeners have been yearning for. We're now in a period of time where listeners are looking for real artists."

Norah Jones returns to the heartfelt on the eagerly anticipated Feels Like Home, her new Blue Note album. The collection features the singer-songwriter-pianist once again teaming with Mardin, engineer Jay Newland and her close-knit touring band. Jones has penned several songs-by herself and with songwriting partner Lee Alexander-gathered other songs from her band mates and friends, and delivers three covers: Townes Van Zandt's "Be Here To Love Me," Tom Waits and Kathleen Brennan's "The Long Way Home" and Duke Ellington's "Melancholia," which she wrote lyrics to and retitled "Don't Miss You At All."

The CD was recorded in two sessions. Last April Jones and her band convened in an upstate New York studio and worked on new songs, including some they had been performing in concert. After an extensive U.S. summer tour, everyone reassembled in New York City to revisit the tracks already recorded, work on different arrangements that had been road-tested and add new numbers to the mix.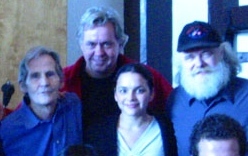 Feels Like Home session photo: Norah Jones with Levon (left) and Garth (right)

On the disc, Jones plays piano, Wurlitzer electric piano and pump organ and features her core group, comprising guitarists Adam Levy and Kevin Breit, background vocalist Daru Oda, bassist Lee Alexander and drummer Andrew Borger. She also brings aboard a select short-list of guests, including Dolly Parton, drummer Levon Helm and organist/accordionist Garth Hudson of The Band, long-time friends guitarists Jesse Harris and Tony Scherr, drummer Brian Blade and keyboardist Rob Burger.

Mardin oversaw the production and again watched Jones work her magic. "These new songs have been a wonderful journey. This album is not about synthesizers or computers. It's about Norah being au natural. She doesn't need pitch correction. She's always in tune, and her voice always touches you. Millions of people around the world feel the same way."

Like the first album, Jones imbues the music on Feels Like Home with country, pop and jazz colors. Unlike the quiet, balladic mood of Come Away With Me (which she once characterized as "mellow"), Jones varied the tempo on the new album to reflect the evolution of her live performances. "I'm very proud of my first record, but I was ready for something a little different," she says, then jokes, "This time it's not quite as mellow. But it's still pretty low-key."

The first single of the CD, "Sunrise," has a bright, buoyant feel and is a tune co-written by Jones and Alexander. "We've been writing a lot together the last two years," she says. "We finally figured how we work best."

The Borger-Oda tune "Above Ground" grooves with funky tinges and chills with gorgeous harmony vocals. "We played this song for the first time in April, and the rehearsal ended up being the take. I'm glad Jay taped it!"

Levy's contribution, "In the Morning," features Jones pushing beyond the mellow zone with a bluesy wail and a Wurlitzer solo. "Well, that's rockin' out for us," she says with a smile. "Actually, that was one of the first new songs that we played when we started."

Alexander's hoedown, "Creepin' In," another Jones and Co. upbeat in-concert highlight, almost didn't make it onto the record because the group wasn't sure it would mesh with the rest of the material. But after Jones was invited to Nashville to sing with Dolly Parton at the 2003 Country Music Awards, she decided to ask the country singer for a favor: to duet with her on the bluegrass-spiced number. "We asked Dolly if she'd like to sing on the album and she said yes," says Jones. "We were so nervous when she came into the studio. She came in and sang her butt off. She sounds great, and Kevin has a great guitar solo on it."

Equally exciting for Jones was the participation of Helm and Hudson. A big fan of both, she brought the pair in to help her finally nail "What Am I to You," her tune that had been recorded previously. "We've recorded that song five times but never quite got it." On a whim, she called Tony Scherr to take a stab at it when her other two guitarists were out of town. Then she brought in Helm and Hudson. "It was real special. I have a lot of respect for both of them, and they're so nice."

There are several other band originals in the collection, including two slow-tempo beauties with Harris guesting on guitar: Jones and Alexander's melancholic "Carnival Town" and Alexander and singer-songwriter friend Richard Julian's lyrical "Those Sweet Words." Jones and Alexander also collaborated on another live favorite, the gently flowing "Toes"; Breit contributed the character sketch "Humble Me," and Jones co-wrote "The Prettiest Thing" with Alexander and Julian.

As for covers, Jones renders Townes Van Zandt's "Be Here To Love Me," which she points out has "my favorite Adam Levy guitar moment on the album." Originally she chose the tune to help pick up the tempo on the CD. "But we ended up slowing it down," she says. "Garth sounds great on the accordion, and Kevin, Adam and Daru sang background vocals." She hastens to add, "It's a great song. I love Townes."

Jones is also an admirer of Tom Waits, whose song "The Long Way Home" (co-written by Waits' wife Kathleen Brennan), driven by an upbeat Johnny Cash-like guitar bass line, appears on the album. "I met Tom and Kathleen at a concert he was doing. Tom asked me if I had listened to the demos he sent me," Jones says. "I didn't even know he had sent me anything, but I assured him I would track them down." She did and she liked what she heard, but was reluctant at first to record it. "We've covered a couple of his tunes in concert, but it's hard to do because I like his versions so much. I'm a huge fan. We pretty much recorded it like he did."

Feels Like Home also features a song Jones developed four years ago. She wrote lyrics to the Duke Ellington instrumental "Melancholia," recorded a demo of it and has been performing it regularly in concert. She decided to record it for the new disc (as "Don't Miss You At All") especially because Blue Note President Bruce Lundvall loves it so much. "I didn't set out to write lyrics to this song," she says. "Just the thought of touching an Ellington composition scares me. But I was so inspired by it."

Inspiration is at the heart of Feels Like Home. While Jones approached recording her follow-up to Come Away With Me with the same sense of musical integrity, she maintains that she did not set out to duplicate its achievement. "I'm glad that people liked the last album. It was where I was at the time, musically. This is where I am now. That's what a recording is for me, like a snapshot. We had so much fun making this record."