Mindy Jostyn: Five Miles From Hope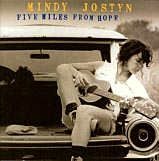 Five Miles From Hope showcases Mindy Jostyn's extraordinary talents as a songwriter, vocalist and musician. With inspiring songs like "Time Be On My Side", a duet with Carly Simon, and "All Roads", the gripping "Common Ground" and the delicate, touching ballad "Different Light", Mindy Jostyn is sure to add many fans to her long list of admirers. Carly Simon, who catches Mindy's shows whenever she can, describes Mindy: "Her personal beauty shines through in all her many skills, whether as a songwriter, a fiddle player, a guitarist, a pianist, a mandolin player, harmonica player, percussionist...and the list continues. When she becomes a household name, we will all say, 'We knew it all along.'"
See the Mindy Jostyn web site for more about Mindy and this album. The light Cajun ballad "Common Ground" features Garth Hudson on accordion with a riff that's a bit reminiscent of Rod Stewart's "Maggie May."
Tracks
All Roads
Time,Be On My Side
Five Miles From Hope
Take It As A Sign
White Magic
Bring Love Back
Ring Of Truth
Common Ground
Different Light
So Far From Anywhere
Too Easy
She Cried In Front Of Strangers
Sidemen
(only members of the Band listed)

Mindy Jostyn: Five Miles From Hope - 1995 - 1-800-PRIME-CD PCD 017
---
[History] [Members] [Library] [Discography] [Videography] [Filmography] [Pictures] [Audio Files] [Video Clips] [Tape Archive] [Concerts] [Related Artists] [Merchandise] [Guestbook] [Chat Room] [Search] [What's New?] [Main Page]
Webmaster