Jimmy Barnes: Flesh and Wood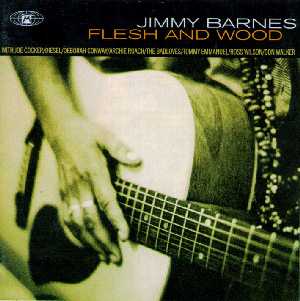 Legendary Australian singer/rocker Jimmy Barnes, formerly the lead singer of Cold Chisel, asked the band Badloves to collaberate with him on his Australian top 5 double platinum album Flesh and Wood. In partnership they recorded a cover version of The Band's classic "The Weight" at Barnes' home studio in Bowral, just south of Sydney. "The Weight" was the first single lifted from the album and became a top 5 single hit on the Australian charts in 1993.
"The Weight" was also inluded on the European release of The Badloves' 1993 album Get on Board. Mushrom Records later included it on their 1999 Jimmy Barnes Australian compilation Hits on and on their two Badloves compilations Everybody Everywhere (MUSH26300.2 ,1997) and The Mushroom Tapes (MUSH332922, 2000).
Tracks
It Will Be Alright
Ride The Night Away
Guilty
You Cant Make Love Without A Soul
Hell Of A Time
Brother Of Mine
Fade To Black
Flame Trees
Still Got A Long Way To Go
Still On Your Side
Stone Cold
Let It Go
We Could Be Gone
Love Me Tender
Jimmy Barnes - Flesh and Wood - 1993 - Mushroom Records
---
[History] [Members] [Library] [Discography] [Videography] [Filmography] [Pictures] [Audio Files] [Video Clips] [Tape Archive] [Concerts] [Related Artists] [Merchandise] [Guestbook] [Chat Room] [Search] [What's New?] [Main Page]
Webmaster