Various Artists: FM Rock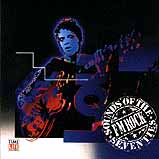 FM Rock is part of Time Life's "Sounds of the Seventies Collection", a huge series of CDs with various artists and songs thrown together without meaning or purpose. Their excuse for releasing FM Rock is:
"Until 1967, Top 40 was the sole radio vehicle for rock; the very concept had developed in the early '50s. But the hippie explosion gave rise to a body of music that took pride in being anti-commercial and anti-establishment, and was thus inappropriate for what had become the big business style of AM radio. The music was often either too long or too experimental to fit into tight formats; sometimes the lyrics contained obscenities, or expressed radical political thoughts. The musicians invariably presented images that could not be marketed in mainstream teen America. But there was no denying that the new music had power, and many teens would listen to nothing else."
Despite the bullshit and the cover-art-from-hell, FM Rock has many excellent tracks, including The Band's "The Shape I'm In."
Tracks
All the Way from Memphis - Mott the Hoople
Going to Mexico - Steve Miller Band
Gypsy Wedding - Moby Grape
Gone Dead Train - Crazy Horse
Willin' - Little Feat
The Shape I'm In - The Band
Sugar Magnolia - The Grateful Dead
(Is Anybody Going to) San Antone - Doug Sahm and Band
Empty Pages - Traffic
Satellite of Love - Lou Reed
Jewel Eyed Judy - Fleetwood Mac
The Harder They Come - Jimmy Cliff
Every Picture Tells a Story - Rod Stewart
Chestnut Mare - The Byrds
The Story in Your Eyes - Moody Blues
Do the Strand - Roxy Music
Jeepster - T. Rex
Rockin' down the Highway - The Doobie Brothers
Sail Away - Randy Newman
Various Artists - FM Rock - 1999 - Time Life Music
---
[History] [Members] [Library] [Discography] [Videography] [Filmography] [Pictures] [Audio Files] [Video Clips] [Tape Archive] [Concerts] [Related Artists] [Merchandise] [Guestbook] [Chat Room] [Search] [What's New?] [Main Page]
Webmaster