Various Artists: Goodnight Saigon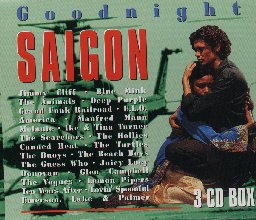 3-CD set from the infamous Disky label, who released the Band budget compilation The Weight in 1996. Disc 3 contains The Band's "Ain't Got No Home" from Moondog Matinee.
"3 CDs packed with the best oldies from the late '60s and '70s. This music is for those who liked the film Goodnight Vietnam," according to a German website promoting these CDs (never mind that no film by the name Goodnight Vietnam exists, they probably mean Good Morning Vietnam, also the title of another 3-CD set from Disky where The Band is present).
Other artists on Goodnight Saigon include Jimmy Cliff, Blue Mink, Animals, Deep Purple, Alan Price, Hawkwind, Grand Funk Railroad, America, Ten Years After, Manfred Mann, Don McLean, Beach Boys, and more. The CDs can be bought as a box, or as three separate discs.
Various Artists - Goodnight Saigon - 1997 - Disky Communications Europe B.V.
---
[History] [Members] [Library] [Discography] [Videography] [Filmography] [Pictures] [Audio Files] [Video Clips] [Tape Archive] [Concerts] [Related Artists] [Merchandise] [Guestbook] [Chat Room] [Search] [What's New?] [Main Page]
Webmaster