Various Artists: Grooves Premiere Volume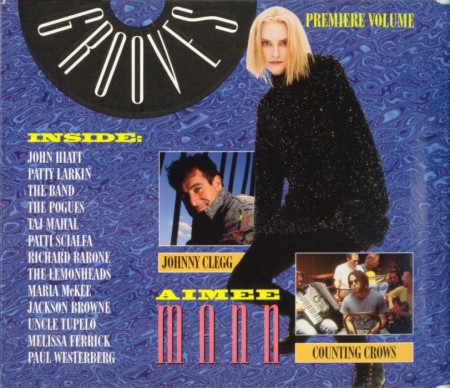 Grooves was an open-ended budget-priced sampler series sold by subscription. It was intended to promote primarily new Rock and Alternative music to an adult audience. Each volume contained a small fold-out magazine describing the artists featured on the CD. The series was cancelled after 14 volumes. Manufactured by Warner Special Products for Time Life Music.
This Premier Volume from 1994 includes The Band's then-fresh version of Springsteens "Atlantic City", from their comeback album Jericho.
Tracks
John Hiatt: Buffalo River Home
Patty Larkin: Pundits And Poets
Taj Mahal: Hard Way
Band, The: Atlantic City
Aimee Mann: Fifty Years After The Fair
Richard Barone: Miss Jean
Counting Crows: Sullivan Street
Pogues, The: Tuesday Morning
Patti Scialfa Come Tomorrow
Lemonheads, The: Into Your Arms
Jackson Browne: Sky Blue And Black
Maria McKee: My Girlhood Among The Outlaws
Paul Westerberg: Runaway Wind
Uncle Tupelo: Give Back The Keys To My Heart
Melissa Ferrick: Happy Song
Johnny Clegg & Savuka: Tough Enough
Various Artists - Grooves Premiere Volume - 1994 - Time Life Music/Warner Special Products R980-01/OPCD-1651
---
[History] [Members] [Library] [Discography] [Videography] [Filmography] [Pictures] [Audio Files] [Video Clips] [Tape Archive] [Concerts] [Related Artists] [Merchandise] [Guestbook] [Chat Room] [Search] [What's New?] [Main Page]
Webmaster