Liner Notes
Fond Memories of Lenny Breau
I have often wondered what is the measure of greatness in a musician. My observations of Lenny Breau, his development and acceptance as a guitarist of world class stature was not only a combination of audience adulation and repeated words of praise such as "genius", but also the utter surprise of fellow artists, musicians and peers when they heard him play for the first time. Over a period of two years or more, I witnessed first hand the reaction of Don Francks, Joey Hollingsworth, the CBC house band in Toronto, Moe Koffman at George's Spaghetti House, Stompin' Ronnie Hawkins at his home, Ed Sullivan's manager and son-in-law in New York, John Coltrane at Birdland in New York, Tony Bennett at the O'Keefe Center in Toronto, and many others.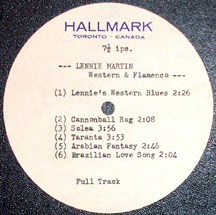 Original master tapes
My first encounter with Lenny was when I went to Jack Shapira's great Jazz Club, The Stage Door, in Winnipeg, Manitoba in October 1961, at the urging of his friend and mine, Joey Hollingsworth. I met Lenny, a diminutive, friendly young man of twenty, with fine handsome features and dressed immaculately in black. What I heard that evening, which added to my appreciation of Jazz, was a level of playing far beyond what I had expected. He was not a "single-pick" player as most Jazz guitarists of the day, but rather, by the use of his fingernails on his playing hand, that were carefully shaped as picks, played combinations of intricate chords and unbelievable runs, with some Flamenco thrown in for good measure. At the end of the evening, which lasted into the early morning, I spoke at length with Lenny and told him he was wasting his time in Winnipeg. I invited him to come to Toronto, stay at my home, and told him I would arrange a recording session so that we could use the tapes as a promotional demo.
Lenny flew to Toronto in early November 1961. I booked a recording studio at Hallmark Studios for November 28, 1961. On the day before, I made arrangements to take Lenny to Ronnie Hawkin's home in Mississauga, in order to rehearse with Rick Danko, acoustic bassist, who played for Ronnie, and Levon Helm on drums. The rehearsal lasted about two hours with Lenny quickly running through the numbers with Rick and Levon that he contemplated recording.
"The Hallmark Sessions" were recorded on November 28, 1961. Lenny, Rick Danko and Levon Helm recorded the seven Jazz numbers in stereo. Lenny then recorded the two Country & Western numbers and the four Flamenco numbers in mono. What was astounding to the recording engineers, and to everyone present, was that Lenny played the entire Jazz session without any rehearsal or interruption. After a short coffee break, Lenny played the Country & Western numbers, changed guitars, and played the four Flamenco numbers - again, without rehearsal or interruption. What has been produced on this CD, is in my estimation, the purest and finest work that Lenny ever performed or recorded.
The two original master tapes were boxed and marked by Hallmark with the date November 28, 1961, and the name LENNY MARTIN. Lenny was caught up in the excitement of recording, and thought he should change his name to one that was less difficult to pronounce and more appropriate for show business. He chose the Lenny Martin stage name perhaps because of Dean Martin's popularity at the time. This makeover was short-lived, and Lenny went back to use his given name soon after "The Hallmark Sessions."
In March 1962, when Lenny and his family moved from Winnipeg and stayed at my home, I had the pleasure of seeing and listening to Lenny practice and play for hours every day. This went on for months, interspersed with sessions with Don Francks, Lenny and Ian Henstridge, who named themselves 'Three', and in turn led to the famous Purple Onion session in Toronto.
There are two vignettes of importance that I recall and had the privilege to be part of in the spring/summer of 1962. The first vignette was a meeting that I arranged to have Lenny meet Tony Bennett on a Saturday morning at the O'Keefe Center in Toronto. Tony was rehearsing for a final evening performance and I had asked him to listen to Lenny. It was about ten in the morning on the stage of an empty auditorium, with only Tony, his piano player, Lenny and myself. Lenny's playing so impressed Tony that he asked Lenny to join him immediately as a permanent member of his tour for a three-year stint. Later that evening, I drove Tony to the airport (then called Malton) and had to tell him that Lenny turned him down. Many years later, I learned that Lenny said it was the biggest mistake of his life. The second vignette was when Lenny and I were in New York, and on a particular evening, decided to drop in at Birdland to hear John Coltrane. (Coltrane was about to record, or had just recorded his album "John Coltrane Live at Birdland"). After listening to a set, Lenny, who invariably carried his acoustic guitar with him, approached Coltrane and asked if he could sit in. I recall John looking Lenny up and down and at some of the group, and they nodded their consent. This acceptance, without knowing anything about Lenny, who could have been a dud for all they knew, was typical of the mutual respect and brotherhood between musicians. It must be remembered that Coltrane's Jazz in 1962 was better known for experimentation, including playing the same chord three or four different ways within a single measure, as well as overlapping chords, before the change was intended to occur. This type of eccentric and unorthodox playing, which most musicians and guitarists could not comprehend, nor play, appealed to Lenny. The rest of the evening with Coltrane and his group was also memorable. When Lenny sat in, after plugging his guitar into one of the speakers, he initially just played chords to get a feel for what was happening. In the following number, when Lenny's turn came to play, the effect was electrifying. Coltrane leaned over with eyes wide-open, looked at Lenny's hands, and smiled. During the remainder of that session, which lasted for at least another two hours, Lenny played with authority with the great John Coltrane, and on many of his licks, Lenny led the charge.
"The Hallmark Sessions" tapes have been stored behind several wine-racks for the last forty-one years, and since then, only listened to for the first time on June 20, 2003, with Paul G. Kohler, the Producer of this CD. Lenny's playing brought back a flood of memories, his laugh, his infectious stutter, his phenomenal ability to play Jazz, Flamenco, Country & Western, my friendship with him and the thought that I had had the privilege of having known a truly great guitarist.
Lenny Breau's life was cut short. He will be missed, but not forgotten.
-- George B. Sukornyk, July 31, 2003
All-Music Guide Biography
Lenny Breau
AKA real name: Leonard Breau
Born Aug 5, 1941 in Auburn, ME
Died Aug 12, 1984 in Los Angeles, CA

An outstanding jazz improviser who performed on both acoustic and electric guitars, Lenny Breau's right hand drew on classical, flamenco, and country (Travis/Atkins) finger-picking techniques. He was among the first guitarists to digest the impressionistic, post-bop chord voicings of pianist Bill Evans. Breau developed the ability to simultaneously comp chords and improvise single-string melodies, creating the illusion of two guitarists playing together. His facility with artificial harmonics remains the envy of many guitarists. Late in his career, Breau began using a seven-string guitar that extended the instrument's range in the upper register. Breau's early RCA recordings are eclectic and technically dazzling. His later work is less flashy, but communicates on a deeper level.

Born to Canadian country music singers, Lenny Breau started out playing country in a sophisticated manner. Chet Atkins himself helped Breau get an RCA recording contract in 1968. However, Breau's jazz-oriented style and remarkable technique quickly caused him to be uncategorizable. Problems with drugs made his career erratic and he is now considered an underground guitar legend. A new label (Guitararchives) was formed in 1995 specifically to release private tapes of his performances.

--Richard Lieberson & Scott Yanow, All-Music Guide