Ronnie Hawkins: The Hawk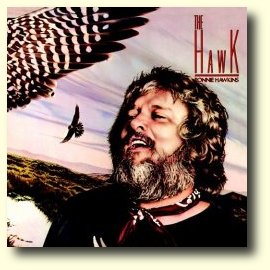 [CD cover]
Garth Hudson contributed keyboards and accordion on this '79 Hawkins album. Also featured are the late Stan Szelest, who appears on the Band's 1993 album Jericho. There is also another Ronnie Hawkins album called The Hawk from 1971, that was recorded in Muscle Shoals with Duane Allman and some others.
A remastered The Hawk was re-released on CD by Capitol Records in March 2006. The sleeve notes for the remaster are from 2005 and written by Anne Pick, with extensive recent quotes from Ronnie. e.g.:
"The trouble was -- you can't give a bunch of guitar pickers a lot of 'refreshments', you'll never get anything done. I heard producer and guitar player Keith Allison playing with Ricky Danko, Paul Butterfield and Gary Busey and so I invited him down. Most of the tracks were laid down there (in Arkansas) and then Stan (Szelest) my piano player and Garth Hudson and I went to LA with him, pulled in some triple scale cats and finished it right. It was quick but then, all the girls said I was quick."
and
"Despite a few body parts not working as good as they used to, I'm heading back on the road and down to Arkansas. I turned 70 this year. They told me in '58 that the big time was just around the corner, all I can say is, it's one hell of a corner."
The notes also mention that Robbie Robertson had swung Hawkins the 1979 deal with United Artists.
Tracks
Down South In New Orleans
Shelter of Your Eyes
Something's Been Making me Blue
Pledging My Love
Sick and Tired
Elvira
Blue Moon of Kentucky
Ain't That Lovin' You Baby
My Babe
Let It Rock
Sidemen
Keith Allison, bass/guitar/vocal/producer
Ryeland Allison, percussion
James Burton, guitar
Paul Butterfield, harmonica
Sammy Creason, drums
Terry Danko, vocal
Charlie Freeman, guitar/guitar
Ronnie Hawkins, vocal
Garth Hudson, synthesizer/accordion
Brooks Hunnicutt, vocal
Phyllis Saint James, vocal
Gabriel Katona, synthesizer
Bobby LaKind, conductor
Carl Mathers, violin
Dee Murray, bass
Jerry Peterson, saxophone
Lisa Roberts, vocal
Rick Schlosser, drums
Jerry Sommers, drums
Stan Szelest, piano
Randy Tominaga, engineer
Mike Utley, organ
Richard Wachtel, guitar
Ronnie Hawkins - The Hawk - 1979 - United Artists UA-LA968-H
Compact disc: Capitol Records 47256 - 2006 (remastered)
AMG Rating: OK
---
[History] [Members] [Library] [Discography] [Videography] [Filmography] [Pictures] [Audio Files] [Video Clips] [Tape Archive] [Concerts] [Related Artists] [Merchandise] [Guestbook] [Chat Room] [Search] [What's New?] [Main Page]
Webmaster