Daniel Lanois: Here Is What Is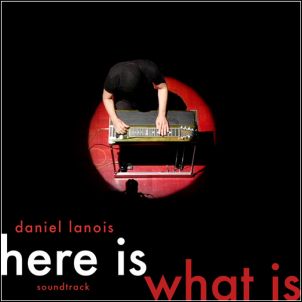 Daniel Lanois has put out half a dozen albums as a singer-songwriter and produced many award-winning works for U2, Bob Dylan, Peter Gabriel and Robbie Robertson. He digitally released his soundtrack album Here Is What Is in December 2007 via RedFloorRecords. This is probably the first ever digital download release being made available as CD-quality WAV files. In March 2008, Red Floor Records releases the new album on CD as well as the Lanois documentary of the same name.
The film, that premiered in the fall of 2007 at the Toronto International Film Festival, is a musical docmentary that attempts to "unearth the source of creativity". The film opens with a magical performance on the piano by "Canada's national treasure," The Band's Garth Hudson, who also appears elsewhere in the film
The Here Is What Is album features Lanois in collaboration with drummer Brian Blade and Garth Hudson. Snippets of conversations with longtime collaborator Brian Eno are woven through the songs.
An exclusive two disk "Goldtop Edition" of Here Is What Is was released in March 2008, containing the CD and a deluxe DVD with over an hour of extra footage, including alternate versions of songs from the film, plus other assorted goodies. including alternate versions of songs from the film,
Tracks
Chest Of Drawers
Where Will I Be
Here Is What Is
Not Fighting Anymore
Beauty
Blue Bus
Lovechild
Harry
Bells
This May Be The Last Time
Smoke #6
I Like That
Duo Glide
Bladesteel
Moondog
Sacred And Secular
Joy
Luna Samba
Daniel Lanois - Here Is What Is - 2008 - Red Floor Records
---
[History] [Members] [Library] [Discography] [Videography] [Filmography] [Pictures] [Audio Files] [Video Clips] [Tape Archive] [Concerts] [Related Artists] [Merchandise] [Guestbook] [Chat Room] [Search] [What's New?] [Main Page]
Webmaster