Hirth Martinez: Hirth From Earth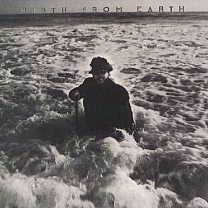 This record was produced by Robbie Robertson. His playing along with Garth Hudson's gives this a sound similar to that of the Band but laid over Martinez's unusual songwriting style. It's an idiosyncratic, but wonderful record.
-- Richard Meyer, All-Music Guide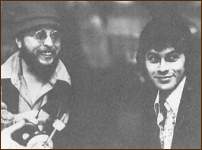 Hirth Martinez and Robbie Robertson, 1975.

In 1974, Robbie Robertson became fascinated by the music of the totally unknown and very eccentric guitarist and songwriter Hirth Martinez, a man who "sang of UFOs as well as loneliness and self-doubt", and decided to produce an album for him. Warner Bros. committed themselves to the project, and the album Hirth From Earth, consisting of Robbie's picks from a collection of over 300 of Martinez' songs, was released in 1975. Hirth's music had very little to do with the Band, it was among the loopier products of L.A.'s singer-songwriter underbelly, pitched somewhere between the Van Dyke Parks of Song Cycle and the Dr.John of Gris-Gris. There was Sandpipers-style samba ("Altogether Alone"), some soft California funk ("Djini"), a slice of cosmic Beach Boys dippiness ("Be Everything"), and even the sub-Captain Beefheart "Comin' Round The Moon". Notwithstanding some interesting moments ("Silent Movies") and snatches of inspired playing from Robbie and Garth, Hirth's nutty lyrics were at best an aquired taste. Hirth From Earth received uniformly disparaging reviews, but Robbie later would defend his decision to produce the album, claiming that people did not understand how great a songwriter Martinez was.
-- extracted from Barney Hoskyns' Across the Great Divide

The first Hirth Martinez LP also credits Robbie for "cover concept" and gives Levon and some others "special thanks."
Tracks
Side 1
Altogether Alone
Winter Again
Djinji
Be Everything
Comin Round the Moon
It
Side 2
That's the Way It's Gotta Go
Silent Movies
Pity on the Fool
I Don't Know Why the Hell
Saturday Night
Cold Dark Mornin
You Are a Star
Sidemen
Hirth Martinez, vocal/guitars
Garth Hudson, organ
Robbie Robertson, producer/guitars
Hirth Martinez - Hirth From Earth - 1975 - Warner Bros. 2867
Compact Disc: Warner Pioneer Corp. WPCP-4916 (Japan, 1992)
AMG Rating: Good
---
[History] [Members] [Library] [Discography] [Videography] [Filmography] [Pictures] [Audio Files] [Video Clips] [Tape Archive] [Concerts] [Related Artists] [Merchandise] [Guestbook] [Chat Room] [Search] [What's New?] [Main Page]
Webmaster