Robbie Robertson: How to Become Clairvoyant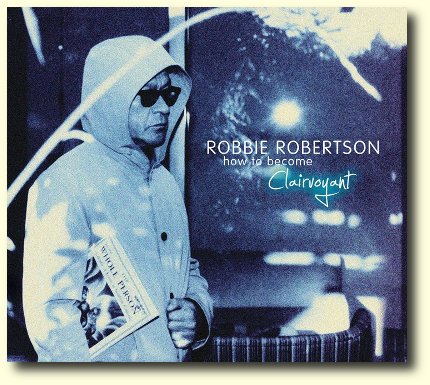 [CD cover] [2-LP vinyl] [Ltd. ed. package] [Promo CD]
Robbie Robertson: How To Become Clairvoyant
---
From robbie-robertson.com, January 2011
---
Robbie Robertson's first album in over a decade, is due out April 5, 2011 on 429 Records
Produced by Marius De Vries and Robertson
Eric Clapton, Steve Winwood, Robert Randolph, Trent Reznor and Tom Morello are featured
On April 5, 2011, 429 Records will release How To Become Clairvoyant, Robbie Robertson's fifth solo album and his first record in more than 10 years. Guitar virtuosos Eric Clapton (who co-wrote three tracks with Robertson), Tom Morello and Robert Randolph guest on the album, which Robertson co-produced with Marius de Vries. How To Become Clairvoyant also features Steve Winwood and Trent Reznor as well as vocalists Angela McCluskey, Rocco Deluca, Dana Glover and Taylor Goldsmith of Dawes. Bassist Pino Palladino and drummer Ian Thomas lay down the groove throughout.
On his last two albums - Music for The Native Americans (1994) and Contact from the Underworld of Redboy (1998) - Robertson explored his ancestry. Now, with How To Become Clairvoyant, he takes on his rock heritage, delivering his first-ever song about leaving The Band, the evocative "This Is Where I Get Off." 'What is lost? What is missing?' Robertson asks on "When The Night Was Young," a poignant reflection on youthful idealism. 'We could change the world/stop the war... but that was back when the night was young.'
The smoldering "Straight Down The Line" is a sly nod to rock 'n' roll's early reputation as the Devil's music, while the blistering "He Don't Live Here No More" details a close friend's battle with addiction. The latter features Clapton on harmony vocal and electric and slide guitars alongside Robertson's soulful gut string guitar solo.
Released as CD (16 page booklet with lyrics and artwork included), vinyl (two 180-gram black vinyl records in gatefold package plus premium digital version), download (MP3, FLAC, or Apple Lossless, includes PDF booklet of lyrics) and limited edition package (CD, bonus CD with 10 additional tracks -- 2 exclusive new tracks, 6 songwriter versions and 2 outtakes -- 2 LPs, DVD, art book, numbered and signed by Robbie).
The Japanese edition of How To Become Clairvoyant features a bonus demo version of "Won't Be Back" with Eric Clapton. 429 Records also released it as a deluxe double disc package featuring demos of "The Right Mistake", "He Don't Live Here No More", "Fear Of Falling", "This Is Where I Get Off" "Madame X" and "Houdini". These demos also feature Eric Clapton.
Tracks
Madame X
Tango For Django
Robbie Robertson - How to Become Clairvoyant - 2011 - 429 Records
---
[History] [Members] [Library] [Discography] [Videography] [Filmography] [Pictures] [Audio Files] [Video Clips] [Tape Archive] [Concerts] [Related Artists] [Merchandise] [Guestbook] [Chat Room] [Search] [What's New?] [Main Page]
Webmaster