The Howlin' Hill Project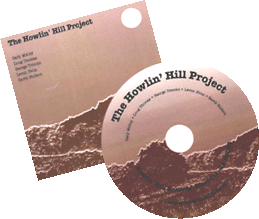 [Tracks/Samples] [Musicians] ["Working with Garth Hudson and Levon Helm"] [Howlin' Hill web site]
2004 good-time-country-rock album from Gary McCoy, Doug Thomas and George Tricomi, recorded in 2003 at the Levon Helm Studio with Levon on drums and Garth Hudson on keyboards and accordion. More tracks from these sessions are available on the 2006 CD Angels Serenade.
Like many other inspired musical collaborations, The Howlin Hill Project was born in Woodstock, NY. It began when Florida bluesman, Tommy McCoy, presented an idea to his brother, songwriter and musician Gary McCoy. Gary quickly got his partner, Doug Thomas on board, and started making phone calls to Levon Helm and Garth Hudson in Woodstock to set the stage. Soon, the cast grew to include pianist George Tricomi, bassists Mark McCoy and Peter Bennett, and guitarist Jimmy Bennett. The players met in Levon Helm's studio, affectionately known as The Barn, with the lofty objective of continuing the long tradition of great music created there.

When you call a meeting with Levon Helm and Garth Hudson, legendary members of The Band and the Rock and Roll Hall of Fame, you had better be ready, so the team came to the table with their best songs plus musical skills and rock sensibilities honed over decades of dues paying and experience.

Out of the sessions came two great CDs: The Howlin' Hill Project, featuring the songs of Doug Thomas and Gary McCoy; and Angels Serenade, highlighting the songs of Tommy McCoy.

The music and comradeship went on for two straight days, resulting in what Levon pronounced, "a satchel full of good tunes." Open the satchel and discover The Howlin Hill Project's masterfully-crafted traditional roots rock, deftly tinged with rural, bluesy and soulful brush strokes from the distinctive talents of each member. Each track is a panel in a 3-dimensional musical tapestry, developing characters and themes so vivid and visual you will surely recognize them, like you'd recognize an old friend you haven't seen in years...so familiar that somehow it's like no time has passed at all. The music will take you home or at least to what home should have been. Welcome to the Hill.

--from the Howlin' Hill web site
Tracks
| | | |
| --- | --- | --- |
| 1. | You're the Only Thing (Thomas & McCoy) | (600K) |
| 2. | Howlin' Hill (Thomas & McCoy) | (600K) |
| 3. | Something 'Bout the Smokies (Thomas & McCoy) | (600K) |
| 4. | Slow Down and Let Your Soul Catch Up (Thomas & McCoy) | (600K) |
| 5. | Angel Serenade (Thomas, Tricomi & McCoy)* | (600K) |
| 6. | I Stood There Like a Stone (Thomas & McCoy) | (600K) |
| 7. | She Worships Money (Thomas & McCoy) | (600K) |
| 8. | Belle of Windy Mountain (Thomas & McCoy) | (600K) |
| 9. | Honeysuckle (Thomas & McCoy) | (600K) |
| 10. | Runaway Train (Thomas & McCoy) | (600K) |
| 11. | Feels Like It's Fixin' to Rain (Thomas & McCoy) | (600K) |
Musicians/ credits
Gary McCoy: guitars, bass, mandolin, banjo, dobro, vocals
Doug Thomas: lead vocals
George Tricomi: piano, trumpet, trombone, alto and tenor sax
Levon Helm: drums
Garth Hudson: organ, electronics, accordion
Mark McCoy, Peter Bennett, Dow Tomlin, Tommy McCoy, Jimmy Bennett, Tim Thompson, Andy Most, Bill Kahler, Al Pieper, Mike Ramos, Cactus Moser.
Horn Arrangements by George Tricomi.
The Howlin' Hill Project was recorded by Chris Anderson at Levon's Barn, Woodstock, NY, and by Nathan Smith at Mainframe Studio, Nashville, TN.
Mixed by Nathan Smith.
Working with Garth Hudson and Levon Helm
Gary McCoy:
Before working with Levon Helm, I had always thought that the definition of a good drummer was one who was most like a metronome...the guy who kept perfect time. Levon taught me how wrong that thinking is. He is not at all like a metronome...he is completely human...the anti-machine. And it makes all the difference in the world. Levon knows just when to push the beat a little; when to lag. It's hardly noticeable--in fact you don't notice it at all, you feel it. And it feels right! It's called soul, and Levon Helm exudes it. His natural groove shows why so much contemporary, machine-based music sounds so sterile and soulless. If you want to add up a page full of numbers in a nanosecond, get a machine. If you want to play music that makes you feel something, call Levon Helm.

Garth Hudson has been a hero of mine my whole adult life, and working with him only enhanced the reverence I hold for him But it did add some new perspective regarding his genius. The thing that struck me most is his sense of humor. Not so much that he has one, but how it is evident in his music. Garth Hudson may be the only virtuoso rock musician ever who exhibits a real playfulness in his work. It's there in The Band's records--man, just listen to the "Genetic Method," "Life Is A Carnival," and "Up on Cripple Creek" for great examples. I'm happy to say his unique approach is woven into the Howlin Hill Project, as well.
Doug Thomas:
Often when I am writing, as the song materializes, the voice I hear singing it in my mind belongs to Levon Helm. So many times I've finished a song and thought, "Levon and Garth Hudson are the only two guys on Earth who could help us make this song come to life." Imagine how I felt, as a life long acolyte in the church of The Band, when Gary told me Levon and Garth had agreed to participate in the Howlin Hill Project.

To this day I can't adequately express my delight and awe at having had the opportunity to work with these national treasures and absolute Titans of Rock & Roll. There is no greater musical thrill than to turn from your microphone to see Virgil Caine incarnate smiling encouragement as he enthusiastically whacks out a backbeat on his snare, or marveling as the creator of the Genetic Method himself conjures up spontaneous musical jewels like an alchemist in overdrive. I'm still pinching myself, but it really did happen and the Howlin Hill Project is the living proof!
George Tricomi:
Garth Hudson and Levon Helm have been on my short list of favorite musicians for the past 30 years.

I love Garth. When I was younger I wanted to be Garth. I know better now. There was never a keyboard player like him nor will there ever be. Garth has made himself aware of all possibilities on the keyboard and inside the keyboard

On the keyboard he has mastered every style that exists: classical, jazz, blues, rock and roll , barrelhouse...he is constantly listening to and assimilating countless musical genres from around the world. Inside the keyboard ( his synthesizer setup ), he seems to have come up with every possible tonal color that can be configured.

The way he mixes it all together still remains wonderfully elusive to me ( Even after watching him up close for an entire weekend ). The totality of his playing is far greater than the sum of its parts. Garth Hudson is truly one of a kind.

Levon Helm came to my hometown with his band, The Barnburners, in the summer of 2001. He was as good as ever, playing with the seasoned experience of a sixty-year-old, and with the strength and intensity of a twenty-year-old, driving the band that his daughter, Amy, fronted with her soulful, bluesy vocals.

I managed to work my way up to the front and discovered a vacant keyboard setup on stage. (Amy would occasionally play keyboards when someone else would take over on vocals.) I felt myself being drawn to it. "I might be able to pull it off." I thought, "If could just get up there and play one chorus with Levon before being rushed by security, my life would be complete."

On the way home I remember simply being grateful for Levon Helm's existence and thinking that certain things were never meant to be. Less than a year later I found myself in Woodstock sitting behind a piano next to Levon and across from Garth, kicking off one song after another, along with my lifelong friends and former band mates. What a thrill! What sweet fortune from out of the blue! Never say never.
The Howlin' Hill Project - 2004 - Howlin' Hill Music
---
[History] [Members] [Library] [Discography] [Videography] [Filmography] [Pictures] [Audio Files] [Video Clips] [Tape Archive] [Concerts] [Related Artists] [Merchandise] [Guestbook] [Chat Room] [Search] [What's New?] [Main Page]
Webmaster