Hungry Chuck: Hungry Chuck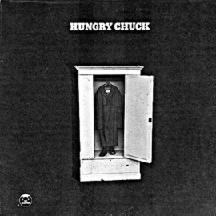 The band Hungry Chuck was formed by members of Great Speckled Bird, the backup band for Ian and Sylvia Tyson, in the early 1970s. Members of Hungry Chuck lived in Woodstock when the Hungry Chuck album was recorded at Grossman's Bearsville studios. They have later been working with several of the Band's musical friends like Bobby Charles, Ringo Starr and Neil Young. A more detailed history of Hungry Chuck was sent to me by bandmember Jim Colgrove. See also the official Hungry Chuck web site and Hideki Watanabe's Hungry Chuck web pages.
Hungry Chuck has been reissued several times on LP and CD in Japan. In the UK it was reissued with different cover art under the title South in New Orleans.
Garth Hudson on soprano and tenor sax on the song "People Do".
Tracks
!Hats off, America!
Cruising
Old Thomas Jefferson
Play That Country Music
Find the Enemy
People Do
Watch the Trucks Go by
Dixie Highway
You Better Watch It Ben, Some Day You're Gonna Run out of Gas
Hoona, Spoona
All Bowed down
South in New Orleans
Sidemen
Paul Butterfield, harmonica
Jim Colegrove, bass/vocal
Peter Ecklund, horns/whistles/trumpet/cornet
Amos Garrett, guitars/bass/vocal
Jeffrey Gutcheon, piano/vocal
Garth Hudson, sax
Ben Keith, vocal/pedal steel/dobro/percussion
Geoff Muldaur, clarinet
N.D. Smart II, vocal/drums
Hungry Chuck - Hungry Chuck - 1972 - Bearsville BR 2071
UK releases:
(titled South In New Orleans with different cover art)
See For Miles Records, LP, See 220 (1988)
C-Five Records, CD, C5CD 590 (1992)

Japanese releases:
Warner-Pioneer Corp, LP, P-7606W (1977)
CBS/SONY Inc, LP, 20AP-1988, (1983)
Pony Canyon Inc., Japan, CD, PCCY-00727 (1995)
---
[History] [Members] [Library] [Discography] [Videography] [Filmography] [Pictures] [Audio Files] [Video Clips] [Tape Archive] [Concerts] [Related Artists] [Merchandise] [Guestbook] [Chat Room] [Search] [What's New?] [Main Page]
Webmaster