John Hammond: I Can Tell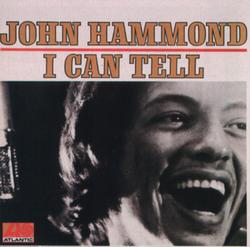 [CD Cover] [1964 single]
John Hammond is a convincing and hungry blues interpreter, sinking his teeth into classics and lesser-known gems of the genre. On the CD reissue of his 1967 LP, he digs into the songbags of Willie Dixon, Howlin' Wolf, Elmore James, John Lee Hooker, and others, emerging with a batch of sturdy songs to which he applies his considerable vocal, guitar, and harmonica skills. "I Wish You Would," "Spoonful," and the title track are just a few of the standouts. The all-star band includes guitarist Robbie Robertson and bassist Rick Danko, who provide a kinetic electric jolt, while Bill Wyman fills in with punchy precision on two tunes. Four CD bonus tracks - taken from Hammond's 1970 LP, Southern Fried - feature the Muscle Shoals rhythm section, bolstered by some Duane Allman slide. Great stuff.
-- Mark J. Cadigan, Blues Access
The song "I Can Tell" by John Hammond came out as a 45 on Red Bird in 1964, b/w "I Wish You Would". Both sides are the same takes as used on the eventual Atlantic LP.
Robbie Robertson was on guitar on all tracks on I Can Tell, Rick Danko on bass on all tracks except "I Can Tell," "I Wish You Would" (Bill Wyman) , and "I'm In The Mood" (Jimmy Lewis). Drums were played by Charles Otis. Artie Butler played piano on "Brown Eyed Hansome Man." The guitar solos is presumably all Robertson except "I'm In The Mood" and "Smokestack Lightning" which are credited to Hammond in the notes. There's also a quote from Hammond in the notes stating that he likes Robbies solo on "Spoonful", but there is no mention of the solos for other cuts.
Tracks
(Compact Disc)
1.
I Wish You Would
(730K)
2.
I'm In the Mood
(647K)
3.
I Can Tell
(713K)
4.
Spoonful
(634K)
5.
Coming Home
(773K)
6.
My Baby Is Sweeter
(676K)
7.
Brown-Eyed Handsome Man
(500K)
8.
Smokestack Lightning
(329K)
9.
Five Long Years
(667K)
10.
You're So Fine
(683K)
11.
Going to New York
(714K)
12.
Forty Days & Forty Nights
(828K)
13.
Shake for Me *
14.
Crying for My Baby *
15.
I'm Leavin' You *
16.
You'll Be Mine *
*: CD bonus tracks from Hammond's 1970 LP Southern Fried.
Sidemen
Artie Butler, piano
Rick Danko, bass
Leonard Feather, guitar
John Paul Hammond, guitar / harmonica / vocal
Jimmy Lewis, bass
Charles Joseph "Honeyman" Otis, drums
Robbie Robertson, guitar (all tracks)
Bill Wyman, bass
John Hammond - I Can Tell - 47:11 - 1967 - Atlantic SD 8152
Compact Disc: WEA/Atlantic 82369
AMG Rating: 8 (out of 9)
---
[History] [Members] [Library] [Discography] [Videography] [Filmography] [Pictures] [Audio Files] [Video Clips] [Tape Archive] [Concerts] [Related Artists] [Merchandise] [Guestbook] [Chat Room] [Search] [What's New?] [Main Page]
Webmaster