Various Artists: The Imus Ranch Record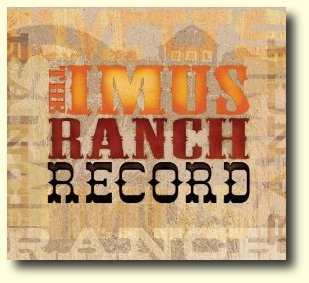 [CD cover]
The Imus Ranch Record features songs picked by TV and radio host (and long-time friend and fan of Levon) Don Imus, for Levon Helm, Willie Nelson, Big & Rich, Dwight Yoakam, Patty Loveless, Randy Travis and others. Levon Helm performs a fantastic cover of the Arthur Alexander classic "You Better Move On." All proceeds from the album go to the Imus Cattle Ranch for Kids with Cancer. Imus debuted Levon's track from the benefit CD at his Imus in the Morning show in January 2008.
A Different Tune for Imus


---

by Jacques Steinberg, published in the New York Times, August 10, 2008


---

In the latest chapter of his comeback following the racially and sexually charged exchange that got him fired by CBS Radio and MSNBC last year, Don Imus is taking on the role of impresario. On Sept. 16 New West Records plans to release The Imus Ranch Record, in which 13 artists selected by Mr. Imus -- including Vince Gill, Willie Nelson, Dwight Yoakum and Loveless Patty -- perform cover versions of songs chosen by Mr. Imus. Ms. Loveless, for example, sings "Silver Spring," a Stevie Nicks song. Lucinda Williams sings "Mamas, Don't Let Your Babies Grow Up to Be Cowboys," which was made famous by Waylon Jennings. Big & Rich, however improbably, put their best spin on the Beastie Boys' "You've Got to Fight for Your Right to Party." Mr. Imus intends for the CD to benefit the Imus Ranch, which he and his wife, Deirdre, operate in New Mexico for the benefit of children with cancer and other diseases.
Tracks
Silver Springs -- Patty Loveless
Lay Down Sally -- Delbert McClinton
Mamas Don't Let Your Babies Grow Up To Be Cowboys -- Lucinda Williams
You Better Move On -- Levon Helm
Life Has Its Little Ups And Downs -- Raul Malo
I Ain't Never -- Little Richard
I Don't See Me In Your Eyes Anymore -- Randy Travis
You've Got To Fight For Your Right To Party -- Big & Rich
What A Difference A Day Makes -- Willie Nelson
Give Back The Key To My Heart -- Dwight Yoakam
What Happened -- Bekka Bramlett
Welfare Music -- John Hiatt
A Satisfied Mind -- Vince Gill
Various Artists - The Imus Ranch Record - 2008 - New West Records
---
[History] [Members] [Library] [Discography] [Videography] [Filmography] [Pictures] [Audio Files] [Video Clips] [Tape Archive] [Concerts] [Related Artists] [Merchandise] [Guestbook] [Chat Room] [Search] [What's New?] [Main Page]
Webmaster