Into the West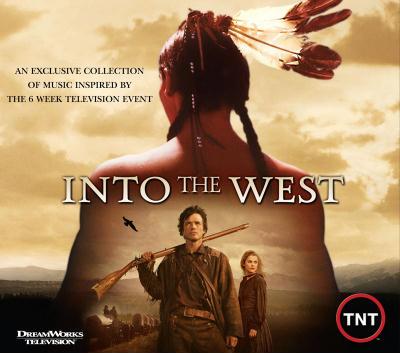 [CD cover]
CD from Turner Network Television (TNT), Best Buy and Dreamworks, with music inspired by TNT's 2005 Steven Spielberg-produced six-week television event Into the West. The CD features songs from Sarah McLachlan, Robbie Robertson, Lyle Lovett, Joanne Shenandoah, Papa John & Daniel, Gillian Welch and Guy Clark.
Serving as the centerpiece of the CD is "World on Fire," the chart-topping single from multi-platinum and Grammy-winning recording artist Sarah McLachlan, which she has remixed as a duet with Robbie Robertson. A music video for "World on Fire," directed by Paul Fedor and featuring McLachlan, Robertson and clips from the series, was created to promote Into the West.
Tracks
World on Fire (remix)
Written by Sarah McLachlan and Pierre Marchand. Performed by Sarah McLachlan, featuring Robbie Robertson
Simple Song
Written and performed by Lyle Lovett.
Wind Voyager
Written By J. Herring & D. Waldis. Performed by Papa John & Daniel.
I'm Not Afraid To Die
Written By Gillian Welch & David Rawlings. Performed by Gillian Welch
Fingerspaint
Written and performed by Douglas Spotted Eagle.
Red River
Written and performed Guy Clark.
One World, One Nation
Written By R. Bee & P. LaRoche. Performed by Brule.
Angel Doves
Written and performed by Mindy Smith.
All The Wild Horses
Written and performed by Ray LaMontagne.
100 Winters
Written and performed by Joanne Shenandoah.
Wide River To Cross
Written by Buddy Miller & Julie Miller. Performed by Buddy Miller.
Grandmother's Last Sunset
Written and performed by Mary Youngblood.
Various Artists - Into the West - 2005 - TNT/Best Buy
---
[History] [Members] [Library] [Discography] [Videography] [Filmography] [Pictures] [Audio Files] [Video Clips] [Tape Archive] [Concerts] [Related Artists] [Merchandise] [Guestbook] [Chat Room] [Search] [What's New?] [Main Page]
Webmaster