Isaac Guillory: Live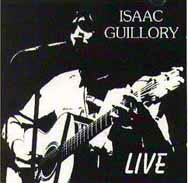 Cuban-born Isaac Guillory is widely regarded as the best acoustic guitarist in Britain. His unique style and technique defy categorisation and he has worked with the likes of Donovan, Joan Baez and Mick Jagger. He started as a bar musician in the Chicago area, then moved to the UK where in 1973 he signed a recording deal with Atlantic, resulting in the folk oriented 1974 release Isaac Guillory. Guillory continued working as a musician until he died of cancer on New Years eve 2000, at the age of 52.
His 1988 live album Live, recorded on various locations in the UK in 1986, contains a version of "The Weight."
Tracks
Through Us All - I. Guillory
Talking To You - I. Guillory
Spanish Reign - I. Guillory
Baltimore Oriole - Hoagy Carmichael
"The Weight" - Jamie Robertson
Morning Glory - Tim Buckley
Blues Is Just A Bad Dream - James Taylor
Swinging Little Guitar Man - I. Guillory
High Flying Bird - Billy Ed Wheeler
Marryin' Blue Yodel - Trad. Arr. I. Guillory
Somewhere Tonight - I. Guillory
People Get Ready - Curtis Mayfield
God Bless The Child - Billie Holliday
Isaac Guillory - Live - 1988 - Personal Records PRCD 001
---
[History] [Members] [Library] [Discography] [Videography] [Filmography] [Pictures] [Audio Files] [Video Clips] [Tape Archive] [Concerts] [Related Artists] [Merchandise] [Guestbook] [Chat Room] [Search] [What's New?] [Main Page]
Webmaster