Spooky Tooth: It's All About Spooky Tooth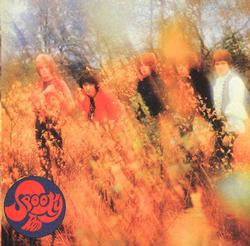 [CD cover] [Back cover] [2002 remastered CD]
The 1968 debut album from late-'60s/early-'70s British hard rock band Spooky Tooth mixes covers such as Dylan's "Too Much of Nothing" and Janis Ian's "Society Child" with original material.
An Australian remaster of It's All About Spooky Tooth, released on the Progressive Line label in 2002, adds two covers of The Band's "The Weight" among the bonus tracks. The first version is the A-side of a Spooky Tooth single released in 1968 ("The Weight"/"Do Right People", Island WIP 6046), while the second "The Weight" is from BBC's Top Gear, recorded live in studio, 30.8.1968.
The single version of "The Weight" is also available on the 1976 compilation The Best of Spooky Tooth (LP Island 9368, 1999 CD Island Masters 842688). The BBC live version appear on Spooky Tooth Live in Europe (Blue Storm 670211-3002-2).
Tracks
Society's Child (Ian,Janis)
Love Really Changed Me (Grosvenor/Miller/Wright,Gar...)
Here I Lived So Well (Grosvenor/Harrison/Moller/W...)
Too Much of Nothing (Dylan, Bob)
Sunshine Help Me (Wright,Gary)
It's an About a Roundabout (Miller/Wright,Gary)
Tobacco Road (Loudermilk)
It Hurts You So (Miller/Wright,Gary)
Forget It, I've Got It (Miller/Wright,Gary)
Bubbles (Grosvenor/Wright,Gary)

Bonus tracks on Australian 2002 remastered CD:

Weird
Luger
The Weight (A-side, Island WIP 6046, 1968)
Do Right People
Oh Pretty Woman
Sunshine Help Me
Too Much of Nothing
Feelin' Bad
The Weight (BBC Top Gear, 30.08.1968)
I Can't Quit Her
Blues Town
Spooky Toth - It's All About Spooky Tooth - 1968 - Island 9080
CD: 1996, Edsel 467
Remastered CD with bonus tracks: 2002, Progressive Line Australia
---
[History] [Members] [Library] [Discography] [Videography] [Filmography] [Pictures] [Audio Files] [Video Clips] [Tape Archive] [Concerts] [Related Artists] [Merchandise] [Guestbook] [Chat Room] [Search] [What's New?] [Main Page]
Webmaster