Various Artists: Jersey Jams, Jersey Cares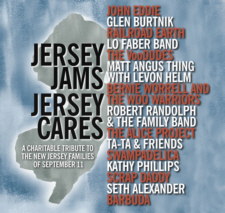 More than a dozen of New Jersey's top music acts are banding together to pay tribute to the hundreds of Garden State residents lost in the Sept. 11 terrorist attacks with this all-star compilation CD that will benefit and help comfort their families. Jersey Jams, Jersey Cares, featuring Bernie Worrell & the WOO Warriors, Robert Randolph, Matt Angus Thing with Levon Helm of The Band, John Eddie and Styx member Glen Burtnik, among others, also will honor the state.s many emergency workers who became heroes at Ground Zero. Set for release March 11, the six-month anniversary of the attack, the disc will raise funds for the New Jersey families who lost loved ones, but will primarily serve as a source of healing and hope.
Matt Angus Thing is a new project formed by Matt Angus, lead singer- songwriter of the veteran improvisational folk-rock band Angus, owner of Black Potatoe Records and Atomic Productions in Clinton and founder of the popular Black Potatoe Festival held every summer at the historic Red Mill in Clinton. The band, also bassist Randy Artiglere, recently toured Florida and will release its debut album soon on Black Potatoe. One of two tracks that inspired the compilation, Matt's "Understand" features Rock and Roll Hall of Famer Levon Helm of The Band and former From Good Homes fiddler Jamie Coan, who reunited with producer and former From Good Homes saxophonist Dan Myers for the track.
See the Jersey Jams Fund web site for CD ordering information and more about this project.
Tracks
Thank Ya (Bernie Worrell)
Pressing My Way (Robert Randolph & The Family Band)
Window of the World (Glen Burtnik)
American Thing (John Eddie)
Understand (The Matt Angus Thing w/ Levon Helm)
Seven Story Mountain (Railroad Earth)
Miracle Time (The Lo Faber Band)
For the Love of the Children, Part 2 (Barbuda)
If (Ta-Ta)
Back To You [Chris' Song] (Seth Alexander)
Angels Never Sleep (kathy Phillips)
11 (The Alice Project)
Water (Swampadelica)
Master's Ship (The VooDUDES)
Never Again (Scrap Daddy)
Varios Artists - Jersey Jams, Jersey Cares - 2002
---
[History] [Members] [Library] [Discography] [Videography] [Filmography] [Pictures] [Audio Files] [Video Clips] [Tape Archive] [Concerts] [Related Artists] [Merchandise] [Guestbook] [Chat Room] [Search] [What's New?] [Main Page]
Webmaster