Soundtrack Album: Jimmy Hollywood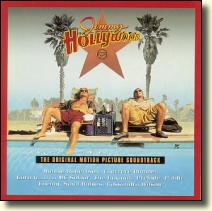 [CD cover]
Here's another soundtrack album by Mr. Robertson. Can't strongly recommend it because of certain other artists, but it does have a couple of new tracks by RR. Best, I think, is the instrumental with The Gil Evans Orchestra, "Slo Burn," which has RR doing six minutes of mellow and moving solo guitar. I recall that The Band - or at least Robbie -had the ambition of working with Gil Evans. Although, I believe, this recording is after Gil's death, it does represent a partial realization of that aspiration.
-- Carole Klinger
About Robbie Robertson's "Slo Burn", from Jimmy Hollywood:
Of course Robertson's widely acclaimed for some of his classic songwriting, and for his songwriter-storyteller role and overall vibe of artistic integrity; and yes, he's vaguely recognized as a good, tasty lead guitarist too. I'm going to go much further out on a limb in assessing him as a player! It's my opinion that he stands in a class with Hendrix, and only Hendrix, as the most innovative, diverse, complex, distinctive, and powerful guitar voice of his era. He's played definitively beautiful solos and color parts in an amazingly wide range of styles and idioms; his timing, as both lead and support player, is fantastic; his uses of open-string and drone techniques, "harmonics" licks, tremolo picking and volume-swell tone effects are utterly personal, imaginative and unique. The different historical periods of his work -- with Ronnie Hawkins, with Dylan, several distinct phases with the Band, and his solo and soundtrack work of the last 16 years -- are each distinctive and deserve serious examination; yet at this same time his personal voice is unmistakable at every stage. He's been a rebel and innovator on the instrument right from the start, and continues to break new ground today, as this moody, moaning, instrumental piece from a 1994 film score bears witness. And of course, through all his evolutions and technical innovations, the essence of his playing has always been the pure, searing emotion he wrings from his strings. "Slo Burn," like all of his best work, fascinates me as a guitarist -- but utterly haunts and transports me as a listener.
-- from A Bonanza of Great Guitar Solos by Johnny Harper
There's an entry for the film in the Internet Movie Database.
Tracks
After The Gold Rush (Prelude)
Le Bien, Le Mal (Guru/MC Solaar)
Slo Burn (Robbie Robertson & The Gil Evans Orchestra)
Fortune Teller (The Iguanas)
Let The Good Times Roll (Robbie Robertson & Cassandra Wilson)
Santa Maria Street (Sand Rubles)
Soap Box Preacher (Robbie Robertson)
Mexican Moon (Concrete Blonde)
Lost At Birth (Public Enemy)
Bad Intentions (Robbie Robertson)
The Far, Lonely Cry Of Trains (Robbie Robertson)
Soundtrack Album - Jimmy Hollywood - 1994 - Atlas Records 314 523 070-2
---
[History] [Members] [Library] [Discography] [Videography] [Filmography] [Pictures] [Audio Files] [Video Clips] [Tape Archive] [Concerts] [Related Artists] [Merchandise] [Guestbook] [Chat Room] [Search] [What's New?] [Main Page]
Webmaster