John Simon: John Simon's Album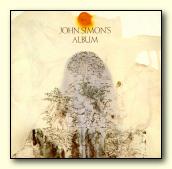 John Simon's Album arrived in 1970, and like the music of The Band is hard to put under any given banner or title. From the opening psychedelic nursery rhyme of The Song Of The Elves, which features Leon Russell and Jean Millington, to dream-like confessionals on Nobody Knows and Rain Song. Three of the strongest songs on the album hit you one after the other: Tannenbaum is all energy with Garth Hudson's soprano sax singing along with John Hall's wonderful dancing guitar lines; Davy's On The Road Again (later a semi-hit for Manfred Mann's Earth Band from their Watch album) was co-written with Robbie Robertson and is the sad tale of a man who has been abandoned and cannot return home to his loved one, with forlorn backup from Muscle Shoals sidemen Barry Beckett and Roger Hawkins; Motorcycle Man is the story of Frilly Fay watching her life slip away in a little roadside cafe. So many characters and too many lost dreams. Rick Danko and Richard Manuel play on this number with tenor from Bobby Keys. The remaining numbers all contain strong lyrics and characters that Simon really seems to understand in his songs, including Don't Forget What I Told You, Annie Looks Down and Did You See? Railroad Train Runnin' Up My Back has friends Rita Coolidge, Bobby Whitlock, Delany Bramlett and Carl Radle along for the ride.
--Lee Gabites
Levon Helm claims in his autobiography that he also contributed to John Simon's Album in the studio, but he is not listed among the musicians on the album cover.
Tracks
The Song of the Elves
Nobody Knows
Tannenbaum
Davy's On The Road Again (J.Simon/J.R. Robertson)
Motorcycle Man
Rain Song
Don't Forget What I Told You
The Fool Dressed In Velvet
Annie Looks Down
Did You See?
Railroad Train Runnin' Up My Back
Sidemen
Barry Beckett, organ
Delaney Bramlett, tambourine
Harvey Brooks, bass
Merry Clayton, vocals
Rita Coolidge, vocals
Rick Danko, bass
Jim Gordon, drums
John Hall, guitar
Paul Harris, organ
Roger Hawkins, drums
Levon Helm (?)
Eddie Hinton, guitar
Garth Hudson, soprano sax
Wells Kelly, drums
Bobby Keys, tenor sax
Richard Manuel, drums
Sherlie Mathews, vocals
June Millington, bass
Paul Prestopino, dobro
Jim Price, trumpet
Carl Radle, bass
Leon Russell, guitar
John Simon, lead vocals/piano/mandola/horns
Grady Tate, drums
Bobby Whitlock, vocals
John Simon - John Simon's Album - approx. 45 min. - 1971 - Warner Brothers Records WS 1849
Compact Disc: Warner Bros WPCP-4914, Japan.
---
[History] [Members] [Library] [Discography] [Videography] [Filmography] [Pictures] [Audio Files] [Video Clips] [Tape Archive] [Concerts] [Related Artists] [Merchandise] [Guestbook] [Chat Room] [Search] [What's New?] [Main Page]
Webmaster