Emory Joseph: Labor & Spirits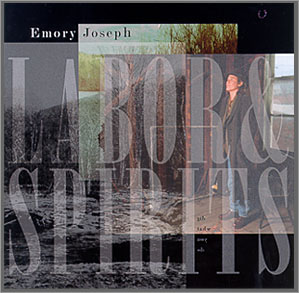 February 2003 debut release from Californian folk/roots singer/songwriter Emory Joseph, recorded at Longview Farms in N. Brookfield, MA.
"Labor and Spirits distills the spirit and sound of everything that has historically resonated from organic, roots based rock and roll. With their performances, the amazing cast Emory assembled to do this album completely celebrated both his songs and the history of the genre as a whole."
--William [Biff] Kennedy, Charterhouse Music Group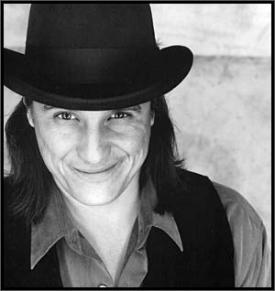 Emory Joseph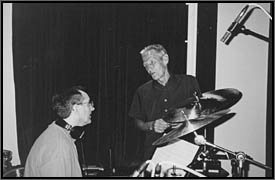 Levon & Dave Mattacks

The album features Levon Helm playing and singing on track 2, "Rhum and Coffee (for Guy Clark)," and track 10, "Family Dog". Levon is playing double drum kits with Dave Mattacks and singing "four around a mic" with Joseph, T-Bone Wolk and Jon Carroll. There are also"hidden" outtakes on the CD, featuring Levon "laughing his ass off."
Tracks
| | | |
| --- | --- | --- |
| 1. | Carolina Princess | |
| 2. | Rhum and Coffee (for Guy Clark) | |
| 3. | The Same | |
| 4. | Trinkets | |
| 5. | Early in the Morning | |
| 6. | Daddy John | |
| 7. | Be Home Baby | |
| 8. | Work To Do | |
| 9. | Sweet William | |
| 10. | Family Dog | |
Credits
Emory Joseph, lead vocals/ guitars
Tom "T-Bone" Wolk, bass/ guitars/ accordion/ vocals
Levon Helm, drums/ vocals
Jon Carrol, keyboards/ guitar/ vocals
Dave Mattacks, drums
Duke Levine, guitars
Kenny Aronoff
Mike Marshall
Stef Burns
Soozie Tyrell
Emory Joseph - Labor & Spirits - 2003 - Capsaicin Records CAP 0201

---
[History] [Members] [Library] [Discography] [Videography] [Filmography] [Pictures] [Audio Files] [Video Clips] [Tape Archive] [Concerts] [Related Artists] [Merchandise] [Guestbook] [Chat Room] [Search] [What's New?] [Main Page]
Webmaster