Various Artists: Largo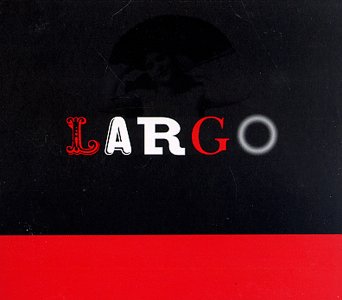 [Cover photo of Levon] [Cover photo of Garth] [Back cover] [Back of CD booklet] [Booklet art]
"...although this song cycle of contemporary frontier ballads, Appalachian reels and work songs is loosely inspired by Dvorak's New World Symphony, it's musical signpost point to The Band's early work. A highly imaginative, and frequently moving, album."
-- Entertainment Weekly 5/29/98, p.77
Largo is a 1998 various-artists concept album inspired by classical composer Dvorak's 9th symphony. The project was initiated, assembled, and produced by Rick Chertoff, Rob Hyman and Eric Bazilian, respectively producer and singer/multi-instrumentalists with the heavily The Band-influenced group The Hooters. Largo started as the recording sessions for a new Hooters album, but evolved into a collaboration between The Hooters and great guest artists like Taj Mahal, Levon Helm, Garth Hudson, Joan Osborne, The Chieftains, Carole King, Cyndi Lauper, David Forman, and Willie Nile.
The Band's Levon Helm and Garth Hudson both appear on the album, on separate tracks. Levon does a duet with David Forman on "Gimme a Stone", while Garth plays an atmospherically dreamy piece titled "Garth's Largo," together with his wife Maud. Garth's keyboard work here is reminiscent of his interpretation of "Feed the Birds" from the Disney album Stay Awake.
Tracks
Chieftains' Largo
Chieftains
Freedom Ride
Taj Mahal (lead vocal, harmonica, barks)
Cyrus in the Moonlight
Rob Hyman (lead vocal, piano, synthesizer)
Gimme a Stone
David Forman & Levon Helm (lead vocals)
Hand in Mine
Rob Hyman (lead vocal, electric piano, organ, accordian), Joan Osborne (lead vocal)
Vishnu Largo
Rob Hyman (Hammond Chord Organ)
Disorient Express
David Forman (lead & harmony vocal, acoustic guitar), Rob Hyman (lead & harmony vocal, organ, electric piano)
White Man's Melody
Cyndi Lauper (lead vocal)
Needed Time
Taj Mahal (lead vocal, dobro)
Banjoman
Taj Mahal & David Forman (lead vocals)
Largo's Dream
David Forman (lead vocal)
Garth Largo
Garth Hudson(bass, soprano, tarogato, tenor & alto sax, allen organ, synthesizers,accordion) , Maud Hudson (vocal), Steve Rust (upright bass)
Medallion
Willie Nile & David Forman (lead vocals)
An Uncommon Love
Joan Osborne (lead vocal), Carole King (harmony vocal), Chieftains
Chieftains Largo (Reprise)
Chieftains
Before the Mountains
Little Isidore (lead & background vocals)
Sidemen
Rick Chertoff
Taj Mahal
Levon Helm
Garth Hudson
Joan Osborne
The Chieftains
Carole King
Cyndi Lauper
Rob Hyman
Eric Bazilian
David Forman
Willie Nile.
Various Artists - Largo - 1998 - Polygram 536877
---
[History] [Members] [Library] [Discography] [Videography] [Filmography] [Pictures] [Audio Files] [Video Clips] [Tape Archive] [Concerts] [Related Artists] [Merchandise] [Guestbook] [Chat Room] [Search] [What's New?] [Main Page]
Webmaster