Kinky Friedman: Lasso from El Paso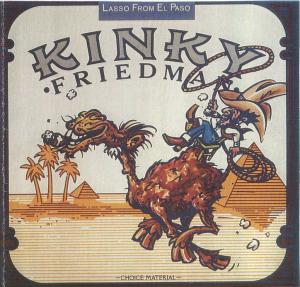 Of the many albums that grew out of Bob Dylan's Rolling Thunder Revue, this must be the strangest. Friedman has a husky voice and an off-kilter sense of humor best captured on the live-from-the-revue track, "Sold American." Also notable for a version of the Bob Dylan outtake, "Catfish."
-- William Ruhlmann, All-Music Guide
Read more about Kinky Friedman and Lasso from El Paso at the Kinky Friedman WWW site.
Two of the tracks on this album, "Kinky" and "Ben Lucas", were recorded in Shangri-La studios in 1976 during the time Rick was recording Rick Danko and Eric Clapton was recording No Reason to Cry. According to Roberty's book on Clapton's recording sessions, the lineup for Ronnie Hawkins' "Kinky" and "Ol' Ben Lucas" was Clapton - dobro, Levon - drums, Rick - bass, Dr. John - toy piano on "Ol'Ben Lucas", with other instruments presumably overdubbed later. Rick and Levon's voices stand out pretty clearly among backing vocals on "Kinky". (Levon and Rick are both listed as backing vocalists in the credit list.) Richard Manuel is listed in the credit list as appearing on both keyboards and drums. Richard is on percussion on the song "Kinky", together with Ron Wood on slide guitar.
The rest of the songs were recorded in Houston, TX, except for track 1, a live recording with Bob Dylan and The Rolling Thunder Revue, Ft. Collins, Colorado. Rick's brother Terry Danko and Ronnie Hawkins appear somewhere on the Houston numbers, but the only Bandster on the Houston cuts is Richard, who is listed as appearing on keyboards.
Tracks
1.
Sold Americans
(K.Friedman)
2.
Twinkle
(K.Friedman)
3.
Ahab the Arab
(R.Stevens)
4.
Dear Abbie
(Friedman)
5.
Kinky
(R.Hawkins)
(2.9MB)
6.
Lady Yesterday
(K.Friedman)
7.
Catfish
(B. Dylan/J.Levy)
8.
Men's Room L.A.
(B.Fowler)
9.
Bananas and Cream
(K.Friedman/J.Shelby)
10.
Ol' Ben Lucas
(K.Friedman)
(1.6MB)
11.
The Ballad of Ira Hayes
(P.LaFarge)
12.
Waitret Please Waitret
(Friedman/Boles/West)
Sidemen
Jim Atkinson, guitar
Terry Balin, vocal
Major Boles, drums
"Fiddlin' Frenchie" Bourke, violin
Gary Burke, drums
T-Bone Burnette, guitar
Eric Clapton, dobro/guitar
Brian Clarke, bass
Tom Culpepper, guitar
Rick Danko, bass/vocal
Terry Danko, bass
Michael DeTemple, guitar
Teddy Jack Eddy, drums
Kinky Friedman, vocal
Al Garth, violin
Bill Ham, guitar
Ronnie Hawkins, vocal
Levon Helm, guitar
Snakebite Jacobs, horn
Dr. John, keyboards
Ken Lauber, keyboards
Richard Manuel, drums
Roger McGuinn, banjo
Darrell Norris, drums
Mick Ronson, guitar
Jewford Shelby, keyboards
Ringo Starr, vocal
Steven Soles, guitar
Rob Stoner, bass
Roscoe West, vocal
Ira Wilkes, bass
Ron Wood, guitar
Howie Wyeth, drums
Red Young, keyboards
Rusty Young, steel guitar
Kinky Friedman - Lasso from El Paso - 20:24 - 1976 - Epic PE 34304
Compact Disc: Epic EPC 47 4609-2 (European Release)
AMG Rating: 8 (out of 9)
---
[History] [Members] [Library] [Discography] [Videography] [Filmography] [Pictures] [Audio Files] [Video Clips] [Tape Archive] [Concerts] [Related Artists] [Merchandise] [Guestbook] [Chat Room] [Search] [What's New?] [Main Page]
Webmaster